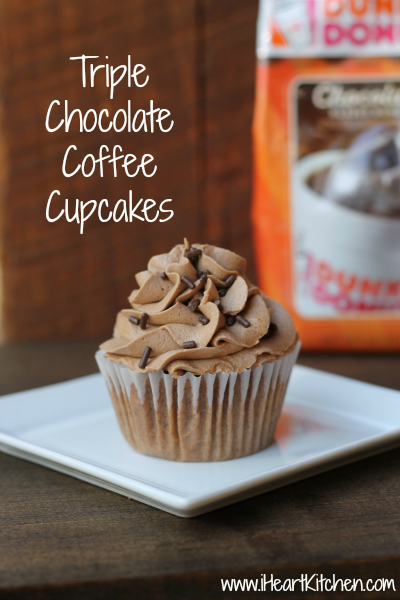 I love the smell of coffee. Notice that I said smell and not taste. I am not the big coffee drinker at my house. My husband enjoys enough coffee for me and about 3 other people. He is a true coffee fanatic.
I got a big box of coffee for a review that I did over on I Heart Publix. While my husband has been enjoying trying the different varieties over the past few weeks, I have been enjoying the aroma every morning. Yesterday the smell of the Dunkin' Donuts Chocolate Glazed Donut was more than I could handle. Instead of pouring myself a cup of coffee, I decided to use it to whip up some of the most incredible cupcakes.
I had a delicious mocha cupcake at a local cupcake shop a couple of months ago and decided to whip up my own version. I figured the Chocolate Glazed Donut coffee would be a great start….boy, was I ever right. These might be the best cupcakes I have ever made. Now my husband might be a little biased, but…he said they were better than the cupcake shop cupcakes!
My Triple Chocolate Coffee Cupcakes will beat any box mix and honestly are almost just as simple to whip up. I promise you, the few minutes of effort are totally worth it.
Triple Chocolate Coffee Cupcakes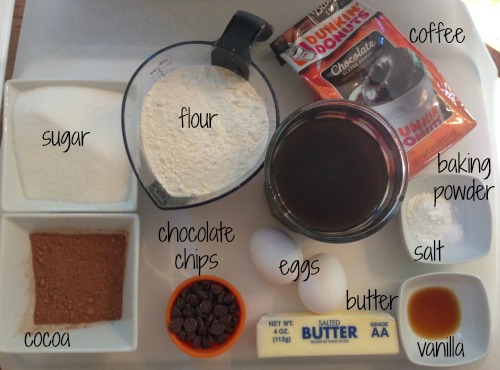 Ingredients
Cupcake
1 cup sugar
½ cup butter, softened to room temperature
2 eggs
1¾ cups all purpose flour, sifted
2 tsp baking powder
¼ teaspoon salt
¼ cup unsweetened cocoa powder, sifted
1 cup brewed coffee, chilled (I used Dunkin' Donuts Chocolate Glazed Donut)
½ teaspoon vanilla extract
¼ cup semi sweet chocolate chips
Frosting
1½ cups butter, softened to room temperature
4 cups powdered sugar, sifted
½ cup unsweetened cocoa powder, sifted
2 - 3 tablespoons heavy cream
1 teaspoon vanilla extract
1 teaspoon brewed coffee, chilled
Instructions
Cupcake
Preheat oven to 350 degrees
Combine flour, baking powder, salt and cocoa in a large bowl, set aside
Combine coffee and vanilla, set aside.
In the bowl of an electric mixer fitted with the paddle attachment, cream the sugar and butter (approx 2 - 3 minutes).
Add eggs to butter mixture, one at a time, mixing well after each addition.
Gradually add dry ingredient mixture alternating with the coffee mixture to the batter.
Fold in chocolate chips.
Line 2 muffin pans with cupcake liners (18 liners total).
Fill each liner with ¼ cup of mixture.
Bake for 20 minutes or until a toothpick comes out clean.

Frosting
In the bowl of an electric mixer fitted with the whisk attachment, whip the butter for 5 minutes on high, until fluffy and white (scrape sides occasionally).
Mix sifted powdered sugar and cocoa and slowly add to whipped butter, mixing well.
Add vanilla and coffee to mixer and mix well.
Add heavy cream as needed to get to desired consistency.
Whip frosting for 2 - 3 minutes.
Pipe or spread frosting onto completely cooled cupcakes.