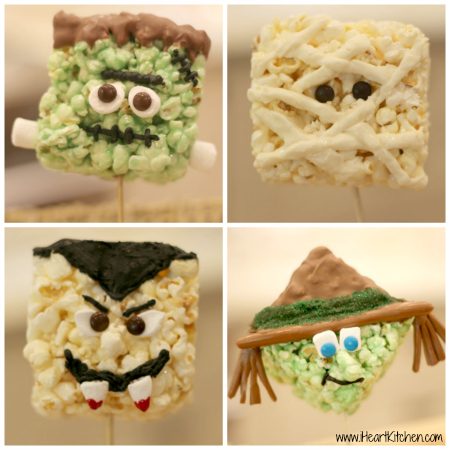 I love Halloween. I have loved it since I was a little girl. The costumes, the decorations, the fun and the candy of course. When October 1st comes, I am busy putting out decorations and working on fun recipes. My boys share my love for Halloween so I try to come up with fun treats and meals to celebrate.
The folks at Good Cook challenged me to come up with a popcorn ball using their awesome Popcorn Ballers. I immediately started to think about Halloween and decided to put my thinking cap on. Halloween is all about fun so instead of the traditional round popcorn ball I used their square popcorn baller to create super cute Halloween Popcorn Ball Monsters.
Halloween Popcorn Balls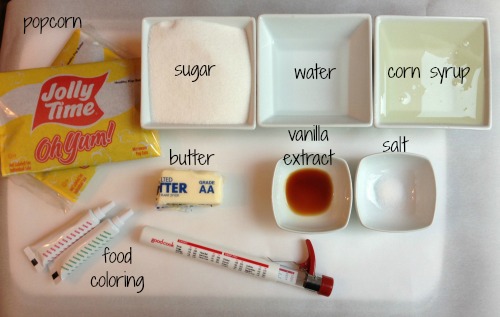 Ingredients
7 quarts popcorn, popped
1 cup sugar
1 cup light corn syrup
¼ cup water
¼ teaspoon salt
3 tablespoons butter
1 teaspoon vanilla extract
food coloring (optional)
candies and chocolates for decoration
Instructions
Spray a large mixing bowl with cooking spray. Add popcorn and set aside.
Combine the sugar, corn syrup, water and salt in a medium saucepan.
Cook over medium heat until a candy thermometer reads 240° or soft-ball stage then remove from heat.
Add butter, vanilla and food coloring (if desired) and stir until the butter is melted.
Immediately pour the sugar mixture over popcorn and stir until evenly coated.
Let cool for 1 -2 minutes then use your hands or popcorn baller to shape.
Decorate with candies and chocolate to create fun Halloween monsters.
This recipe is super simple and the popcorn baller makes whipping up these super cute Halloween Monsters a breeze. It forms the popcorn perfectly and no need to get your hands all sticky! I used what I had on hand to make my monsters. The great thing is that if you decorate them immediately everything will stick to the sugar. Be sure to have everything ready once you get those balls made! Once the sugar hardens all your decorations should be set too.
I used mini marshmallows, mini chocolate coated candies, candy coating bark, frosting and Tootsie Rolls for my fun creations. I spread out the candies on the counter and my boys had a blast making their own little creatures.
Products for this post provided by Good Cook