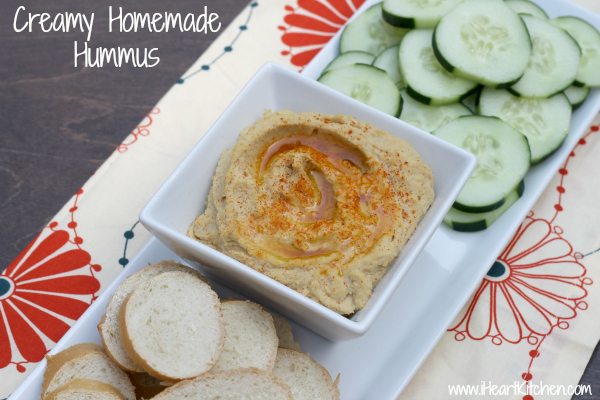 I love hummus. Yes, it's is a simple statement but really oh so true. I pretty much always have hummus in my fridge.
At around $4 per tub (without a sale), my hummus addiction can get pretty expensive each week. So…what's a hummus loving gal to do? The easy solution is to whip it up some Creamy Homemade Hummus for a fraction of the price of the tubs at the supermarket!
Ok, so you are skeptical. You are thinking it must be difficult and require a ton of time in the kitchen to create your own batch of creamy homemade hummus. Nope – it's super simple and I bet even on your first attempt you will have a batch made in under 10 minutes – that includes the time needed to get and measure your ingredients!
Now there are likely a million versions but this one is my favorite. I have tried taking the skin off the beans…I didn't see any big difference in texture to warrant the effort. I have tried it with Greek yogurt in place of the tahini. While I did like that version, I still prefer this version using tahini. The recipe I am sharing is simple and delicious but I do encourage you to experiment with different toppings for your hummus. I am partial to adding an olive tapenade – yum!
If you are not feeling bold, the standard olive oil/paprika on top is absolutely delicious. This is a great appetizer for guests, perfect sandwich condiment or a great a mid-afternoon snack with raw veggies.

Creamy Homemade Hummus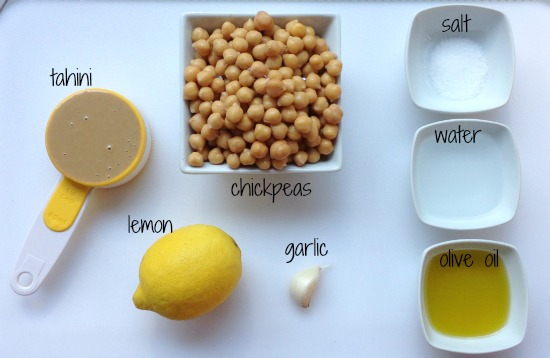 Ingredients
15.5 oz can garbanzo beans (chickpeas), rinsed and drained
¼ cup tahini (roasted sesame paste)
1 large lemon juiced (1/4 cup juice at minimum)
1 teaspoon kosher salt
1 clove garlic, crushed
2 tablespoons extra virgin olive oil (additional for serving)
3 tablespoons water
pinch of cumin
Instructions
Add all ingredients (except water) to the food processor and process for 2 -3 minutes until smooth.
Add water as needed to get to desired consistency. I find that the full 3 tablespoons works perfectly!
Serve topped with additional olive oil.
Notes
Try topping your hummus with different items. You can add ¼ cup of roasted red pepper, an olive tapenade or just serve topped simply with olive oil and a sprinkle of paprika.