Grilled Lime Shrimp Tostadas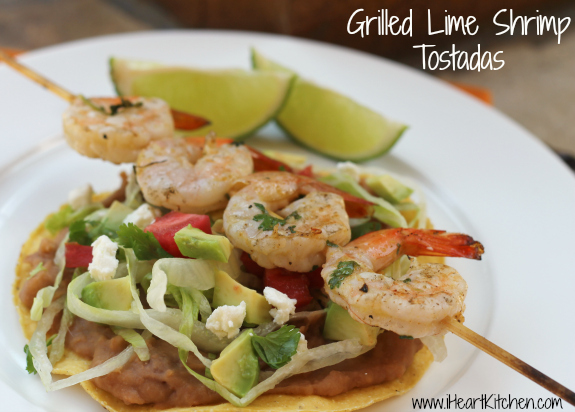 Skewers (if wooden soak in water for 20 minutes)
1 lb shrimp, shelled and deveined
¼ cup olive oil
1 lime, juiced
2 garlic cloves, minced
½ teaspoon cumin
¼ teaspoon salt
⅛ teaspoon pepper
⅛ teaspoon red pepper flakes (more if desired)
¼ cup cilantro
refried beans
lettuce, shredded
tomatoes, chopped
queso fresco
guacamole or any other favorite topping such as black olives, onions, salsa, etc...
Place olive oil, salt, pepper, cumin, red pepper flakes, garlic and cilantro into a bowl and blend with a stick blender until emulsified. (You can also use a regular blender)
Pour over shrimp and refrigerate for 5 - 10 minutes.
Skewer shrimp and grill on high for 2 -3 minutes.
Brush with extra marinade then flip and grill an additional 2 - 3 minutes until shrimp is pink and cooked through. Remove from grill.
Assemble your tostada by spreading with beans, lettuce, tomato, cilantro and topped with the grilled shrimp. Squeeze extra lime juice on top before serving.
Recipe by
I Heart Kitchen
at https://www.iheartkitchen.com/grilled-lime-shrimp-tostadas/