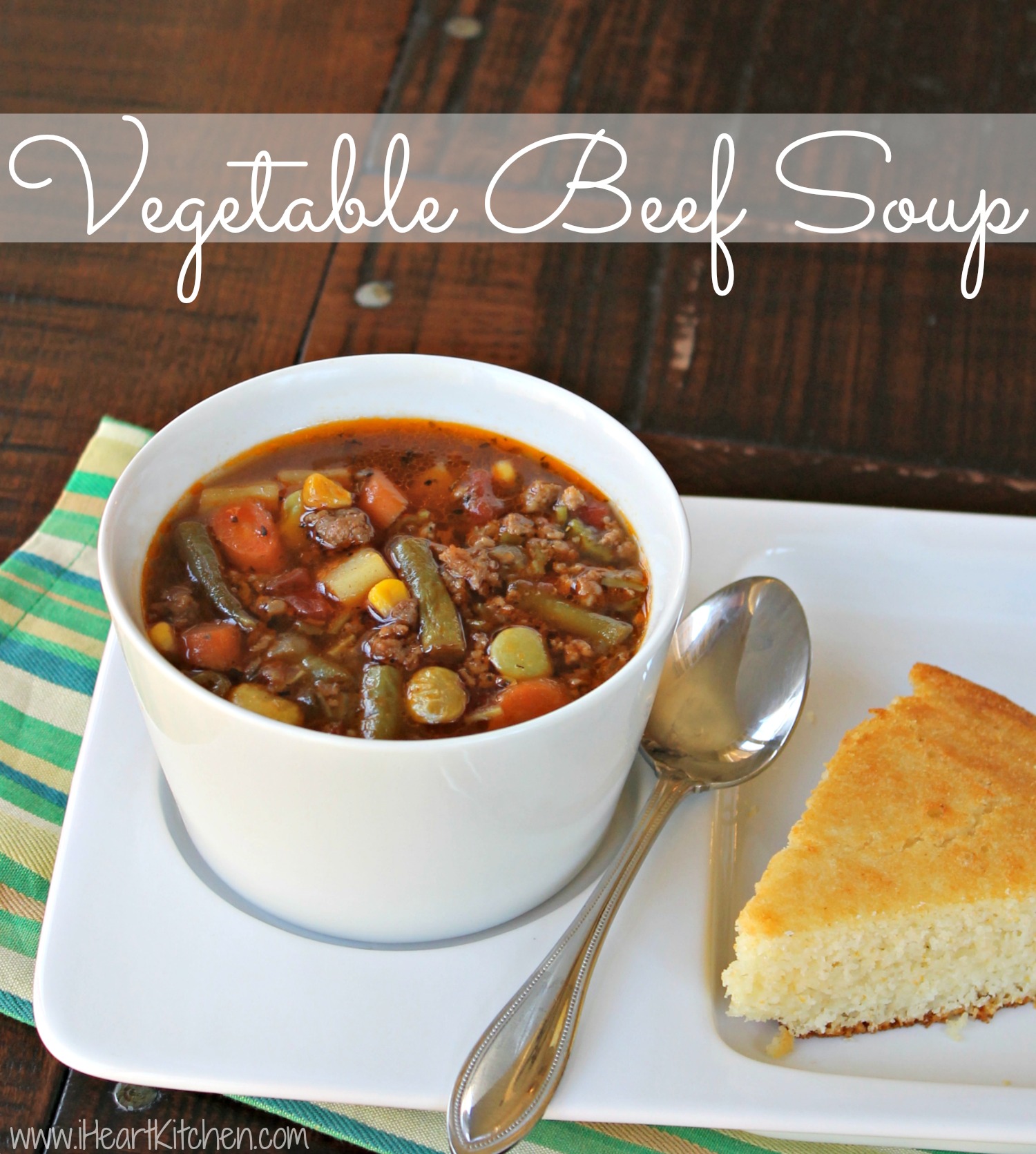 We have had a couple of weeks of very cold weather here in the Chattanooga. I know you guys in the North probably just laugh at what we consider cold weather. I live in the South for a reason…I am a warm weather kind of gal.
I think snow is beautiful but I prefer to look at it for a bit…then I want it to go away. We have had some flurries here and there but nothing really stuck to the ground. The other day the weather was just ugly and cold. It dipped below freezing and the county called off school for the day. My boys were thrilled to have a long weekend. I figured I'd make the most of it and whip up some Vegetable Beef Soup to keep everyone warm!
This is the easiest soup in the world as you can really add whatever veggies that you like and/or have on hand. Frozen, canned, fresh…whatever – you just can't go wrong.
I'd happily just have a bowl of veggie soup but my guys are big carnivores and prefer their soup with some meat. The ground beef adds a nice texture so this is the version that makes them happy. The best thing is that it makes a huge pot so I have leftovers for lunch the next day!
Whip up a pan of cornbread and hunker down with a bowl…it's sure to keep you toasty on a cold day!

Vegetable Beef Soup
Ingredients
1 pound lean ground beef
1 large onion, chopped
2 cloves garlic, chopped
2 cups tomato juice or V8
48 oz beef stock
1½ tablespoons beef base
1 can diced tomatoes, 14.5 oz
½ cup corn
½ cup carrots, sliced
1 pound potatoes, peeled and diced
½ cup lima beans
½ cup okra, sliced
½ cup green beans
2 bay leaves
1½ tablespoons Worcestershire sauce
1½ teaspoons salt
1 teaspoon black pepper
1 teaspoon oregano
Instructions
Add the ground beef to a large stockpot and brown the meat over medium heat, crumbing as you stir.
Drain any excess fat and add the onion and garlic.
Cook until the onions are tender, about 3 - 4 minutes.
Add the remaining ingredients and stir to combine.
Turn the pot up to medium high heat and bring to a boil.
Once the soup has come to a boil, reduce the heat to medium low and simmer for about 40 minutes or until the veggies are tender.
Taste and season as needed.
Remove the bay leaves before serving.
Notes
You could also do this in your slow cooker. Brown the beef and cook the onions as indicated. Once those steps have been completed, transfer to the slow cooker and add the remaining ingredients and cook on low for 6 - 8 hours.