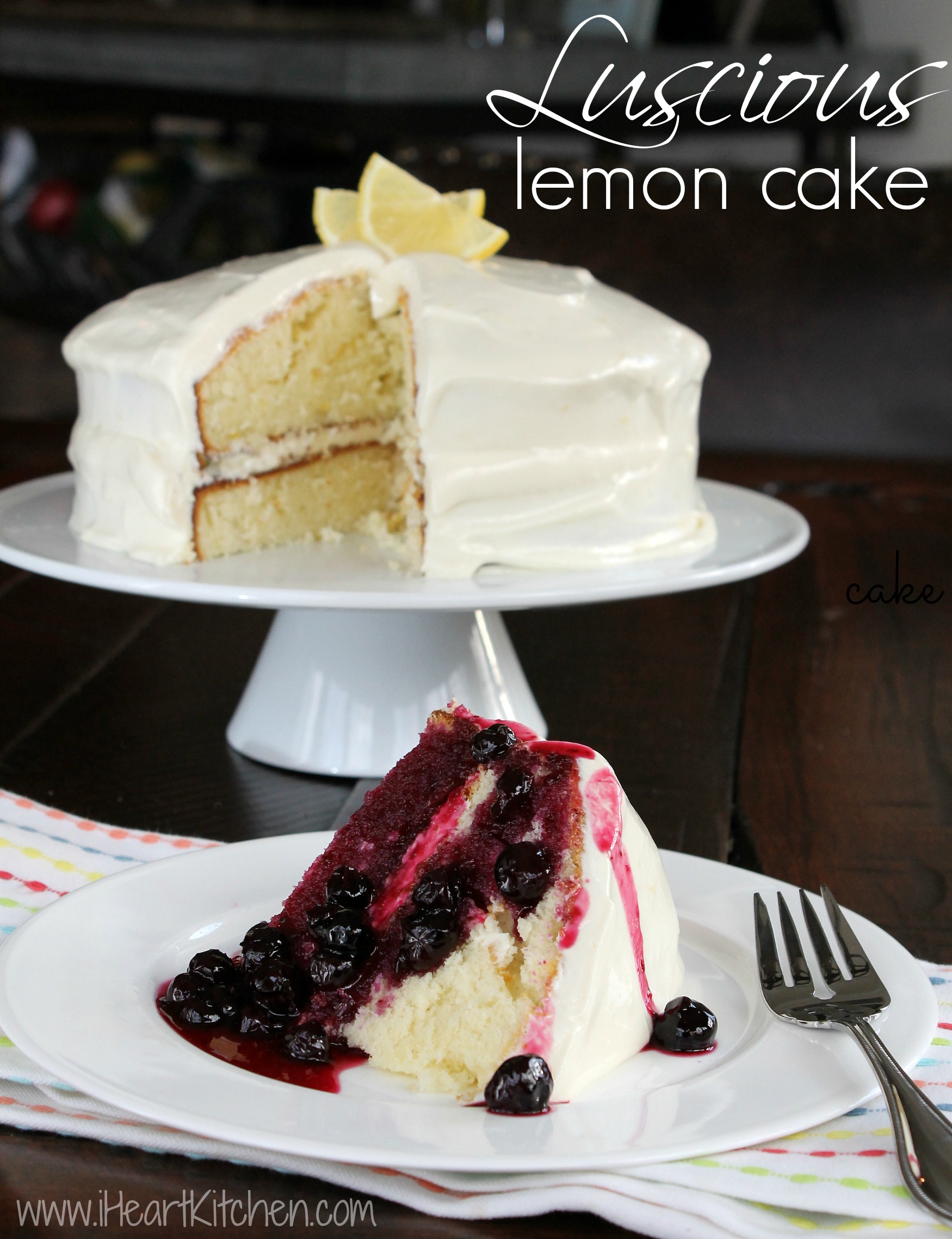 Not too long ago I had a hankering for Lemon Cake. One of those crazy cravings where I just had to have it. I guess I was driving my husband crazy as he agreed to stop by Firebirds and pick up a piece to go.
So I call them to order the cake and they tell me that the cake was just a seasonal menu item and then proceeded to offer me some other dessert – WHAT? Oh my, I was so disappointed! I was so close to getting that cake and then bam…rejected!
So what's a gal to do? Bake one!
I don't have lemon cake recipe so I decided to wing it. I took my basic white cake and jazzed it up a bit and came up with a recipe that would rival that fabulous cake I had at Firebirds. I even made a blueberry sauce to go with it.
Even though I was the one who originally wanted that cake, I can assure you that all of my guys happily scarfed down huge chunks of cake once it was done!
I hope you guys like it as much as we did.

Luscious Lemon Cake
Ingredients
Cake
2 cups white sugar
1 cup butter
4 eggs
1 teaspoon vanilla extract
1 tablespoon fresh lemon juice
zest of two lemons
3 cups all-purpose flour
2½ teaspoons baking powder
1 cup milk
Frosting
6 oz cream cheese, softened
4 tablespoons butter, softened
½ cup lemon curd
2 cups powdered sugar
3 tablespoons fresh lemon juice
zest of one lemon
Blueberry Sauce
1 pint blueberries
¾ cup water
1 cup sugar
½ teaspoon vanilla
1 tablespoon fresh lemon juice
Instructions
Cake
Preheat the oven to 350º F.
Cream the butter and the sugar in your stand mixer.
Add the eggs, one at a time, beating well after each addition.
Add the vanilla, lemon juice and zest and mix to combine.
Combine the baking powder and flour then add in thirds to the butter mixture, mixing after each addition.
Add the milk and mix until combined.
Spoon the batter into two 8" round greased and floured cake pans and bake for 25 - 30 minutes or until the middle is set.
Allow to cool before frosting.
Frosting
Mix together the butter, cream cheese and lemon curd.
Gradually add in the powdered sugar.
Beat in the lemon juice and zest and mix until light and fluffy. If needed, add more sugar or lemon juice to get desired spreading consistency.
Blueberry Sauce
Place all ingredients in a small sauce pan and bring to a boil.
Reduce the heat and allow to simmer for about 15 minutes.
Remove from heat and cool before serving over the cake.