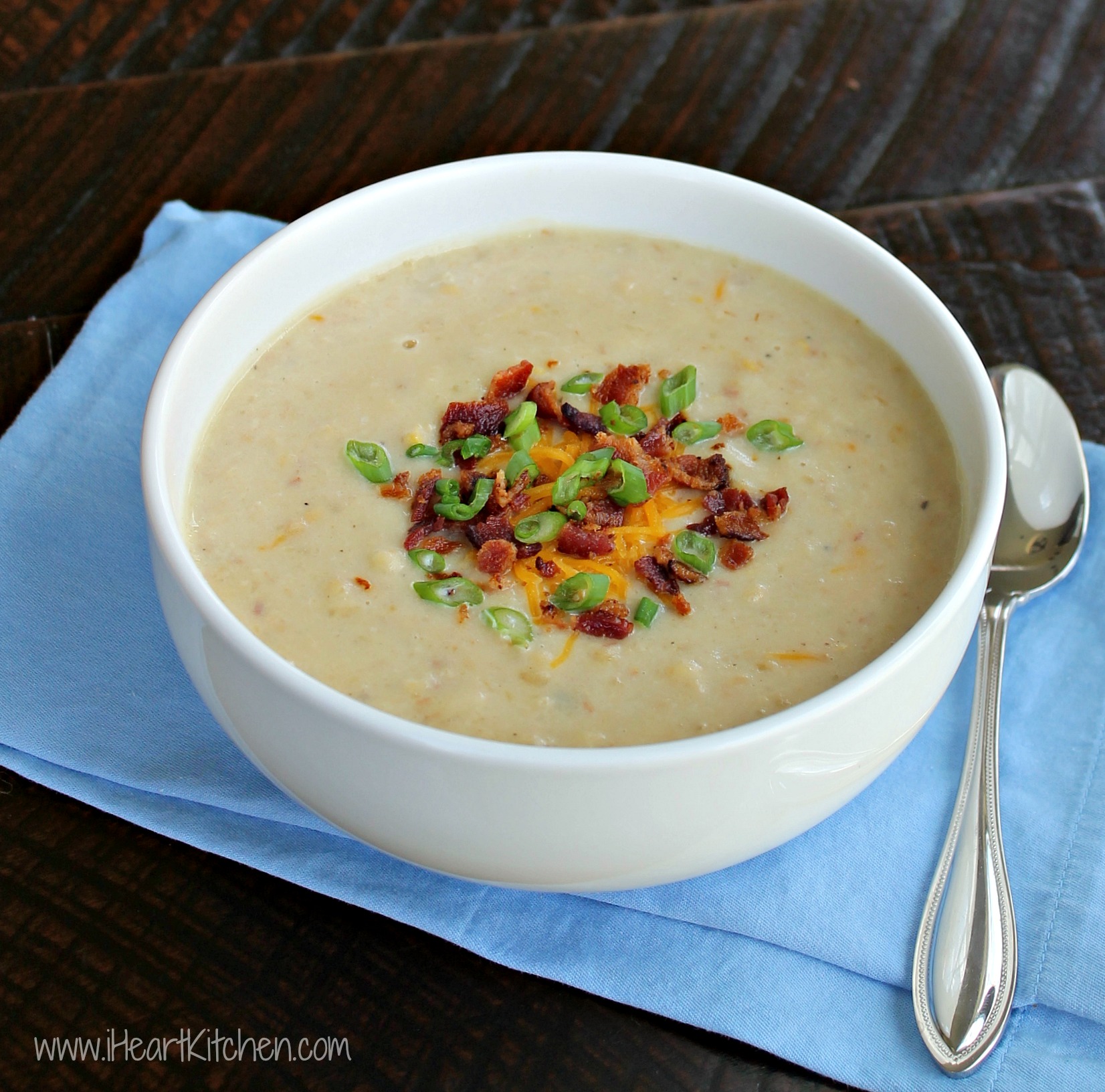 If you guys visit me over on I Heart Publix you might know that every week I try out a couple of products to see if the store brand is as good as the national brand. I have been doing this for quite a while so I am now looking to things that I might not purchase on a regular basis. This week I grabbed a couple of cans of corn.
I usually go for fresh or frozen corn for my recipes. I don't typically use much canned corn and rarely keep it on hand. Before I opened the cans for the taste test I wanted to come up with something to do with that corn so it wouldn't go to waste.  I put on my thinking cap and decided to use those cans for a very old recipe that I haven't made in quite a while – Corn and Potato Chowder.
The recipe I have is ancient. It's a handwritten recipe that is stained and almost faded at this point. I honestly don't even know why I still have it. The recipe is pretty basic but it's one of the first recipes that someone took the time to write out and give to me. I have modified it slightly over the years. The biggest change is that I opt to toss it in the slow cooker and let it cook all day while I am busy doing other things.
My guys love this chowder and it was a great way to put that canned corn to use. If you don't have canned corn feel free to use frozen or even fresh! This is a great recipe to make after Easter when you are looking for something to do with that ham bone.
Enjoy!

Slow Cooker Corn And Potato Chowder
Ingredients
2 cans of corn (15.25 oz cans)
2 pounds of potatoes, peeled and cubed
1 medium onion, chopped
1 ham bone (or ham hock)
1 teaspoon black pepper
2 cups chicken broth
1½ cups half & half
2 tablespoons butter
salt to taste
4 slices of bacon, cooked crisp & crumbled
shredded cheese and sliced green onion (if desired)
Instructions
Place the corn, potatoes, onion, ham bone, black pepper and chicken broth in your slow cooker and cover.
Cook on low for 6 - 8 hours.
minutes before serving, add the half & half and butter.
Cover and cook 30 minutes.
Remove the ham bone.
Use your immersion blender and pulse through the chowder until it's thickened to your liking (you can also place about 1½ - 2 cups of the chowder into your blender and blend until thickened then mix back into the chowder.)
Season with salt to taste.
Top with bacon, cheese and green onion (if desired.)