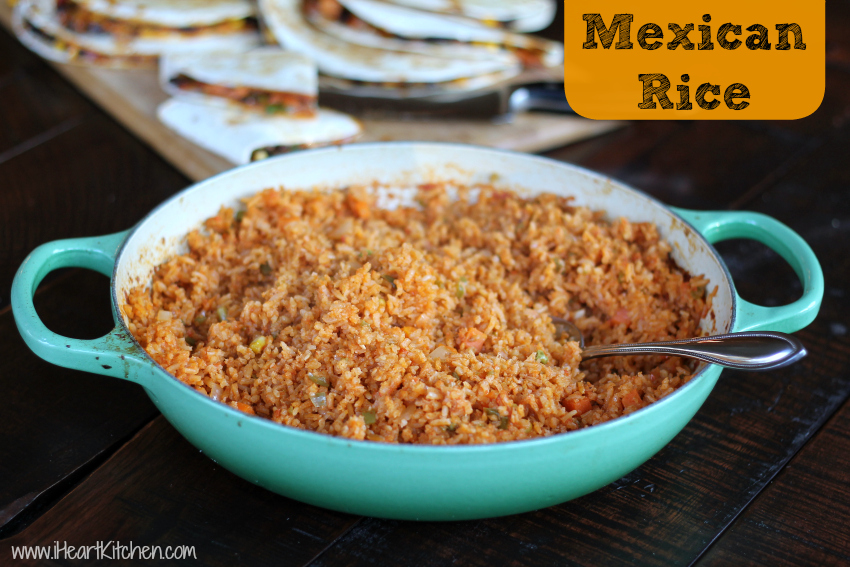 I decided to whip up some Black Bean Quesadillas for dinner last night. Whenever I do quesadillas I want Mexican Rice as a side dish. In my world these two just go hand in hand.
Now when I want Mexican Rice, I want the kind that you get at the local Mexican restaurant. That fluffy, oh so delicious rice that is perfectly seasoned. This is that recipe. Whip this up then close your eyes and take a bite, you'll probably hear a mariachi band playing in the background.
The great thing is that the recipe is simple to put together. You have a little prep on the stove top but then finish it off in the oven. You have just enough time to do my Black Bean Quesadillas while you wait 😉

Mexican Rice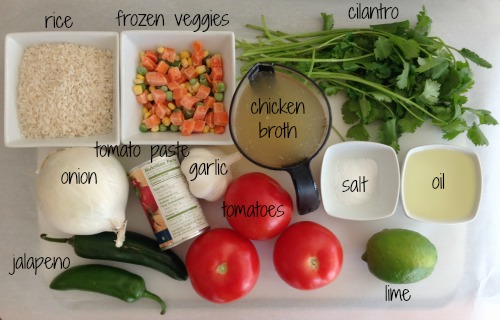 Ingredients
3 - 4 very ripe tomatoes, cored and quartered
1 large white onion, quartered
2 - 3 medium minced jalapeños, halved and seeded
2 cups long grain white rice
⅓ cup canola oil
4 garlic cloves, minced
2 cups chicken broth
1 tablespoon tomato paste
1½ teaspoons salt
½ cup cilantro, minced
½ cup frozen peas & carrots
lime (if desired)
Instructions
Preheat oven to 350 degrees
Place tomato and 3 quarters of the onion in food processor and puree until smooth.Transfer to measuring cup and reserve exactly 2 cups. Discard excess.
Rinse rice in a fine mesh strainer under cold running water until water runs clear.
Shake to remove excess water.
Heat oil in a Dutch oven - Make sure to choose a pot with a tight fitting lid.
Add the rice to the oil.
Fry rice until it is light golden and translucent, stirring constantly.
Reduce heat to medium, add garlic and minced jalapenos. Cook until fragrant, about 1 minute.
Stir in broth, pureed tomato mixture, tomato paste, salt, last quarter of onion (chopped) and frozen vegetables. Increase heat to medium high, and bring to a boil.
Remove from stove top. Cover pan and transfer to oven to bake until liquid is absorbed and rice is tender, about 25 - 30 minutes. Stir well after 15 minutes.
Remove from oven.
Stir in cilantro, minced jalapeno to taste, and serve with lime wedges.