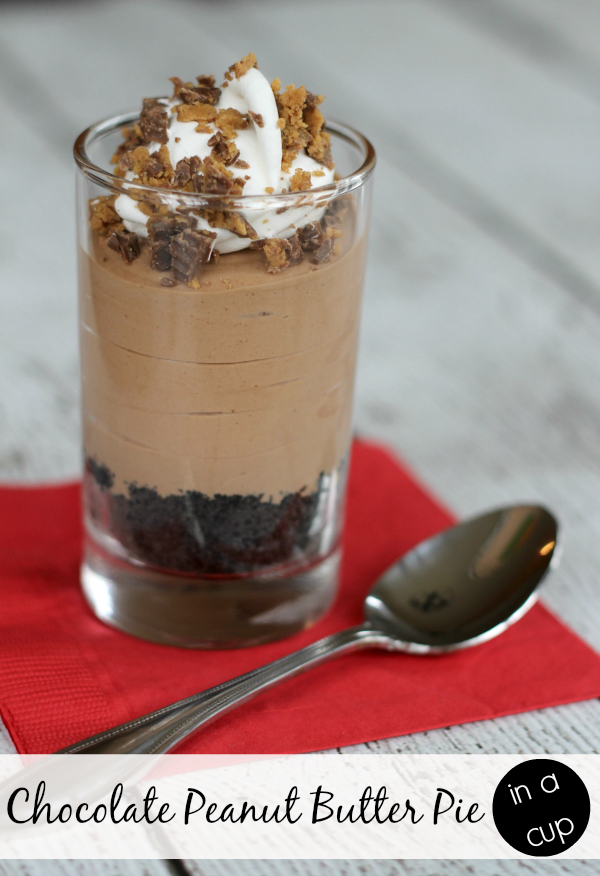 The folks at Hershey's sent me some of their new chocolate spreads. Not too long ago I whipped up some phenomenal Simple Chocolate Truffles using the spreads. I used them to put together fun little Valentine's for all my guys. I have to share my chocolate so that I don't eat it all myself.
The other day I had a hankering for a sweet treat and went back to those little jars of chocolate goodness. This time I decided to whip up a Chocolate Peanut Butter Pie.
I don't know about you guys but when I think about chocolate I also think peanut butter. The combination is just classic and oh so delicious. I was craving chocolate peanut butter pie and decided that I would do individual portions to help me curb my desire to put my whole face in a pie (I have a hard time saying no to chocolate). Thus my Chocolate Peanut Butter Pie (In A Cup) came about.
These were so rich and delicious. You'll definitely want to portion them out…unless of course you have will power around chocolate and peanut butter!
Chocolate Peanut Butter Pie (In A Cup)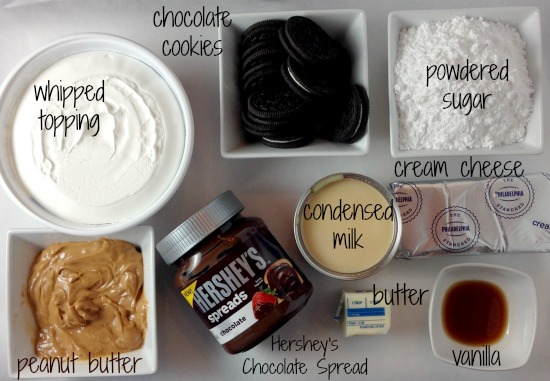 Ingredients
15 chocolate sandwich cookies
4 tablespoons butter, melted
8 ounces cream cheese, softened
½ cup Hershey's Spreads
½ cup creamy peanut butter
1 cup confectioner's powdered sugar
1 14-ounce can of sweetened condensed milk
1 teaspoon vanilla extract
1 8-ounce tub of whipped topping
Instructions
Pulse the cookies in the food processor until they are small crumbs. (You can also place the cookies in a zip top bag and use a rolling pin to crush into crumbs).
Mix the crumbs with the melted butter.
Evenly divide the mixture into 8 small cups and press down with a spoon to create your bottom crust layer.
Place cream cheese, Hershey's Spread and peanut butter in a bowl and mix on medium until combined and smooth.
Gradually mix in powdered sugar.
Pour in the condensed milk and continue mixing until smooth and creamy.
Gently fold in a quarter of the whipped topping to lighten the mixture.
Once combined, fold in the remaining whipped topping and pipe (or spoon) the mixture into the cups with the cookie crumb crust.
Cover with plastic wrap and refrigerate for 3 - 4 hours to set.
Serve chilled.
Top with additional whipped topping and chopped Reese's Peanut Butter Cups if desired.