Chocolate Peanut Butter Pie (In A Cup)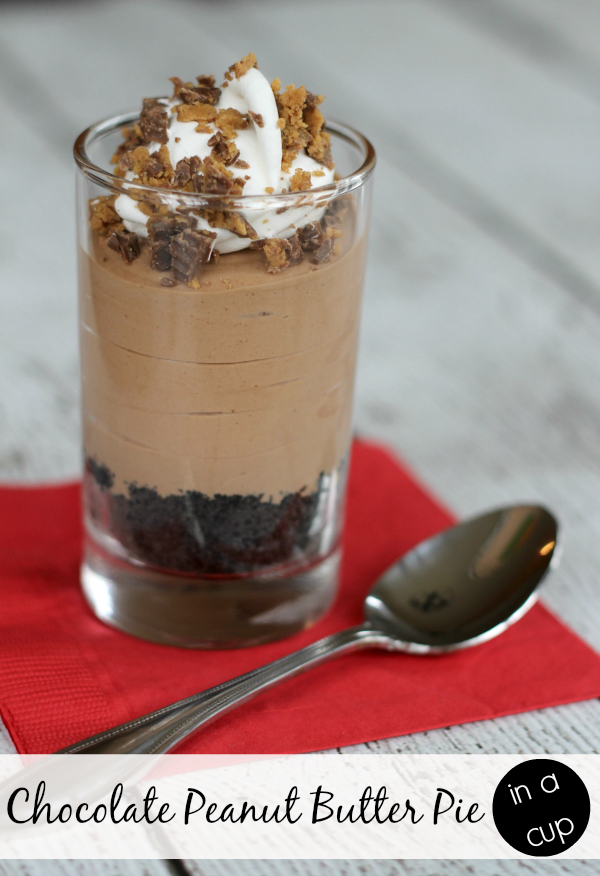 15 chocolate sandwich cookies
4 tablespoons butter, melted
8 ounces cream cheese, softened
½ cup Hershey's Spreads
½ cup creamy peanut butter
1 cup confectioner's powdered sugar
1 14-ounce can of sweetened condensed milk
1 teaspoon vanilla extract
1 8-ounce tub of whipped topping
Pulse the cookies in the food processor until they are small crumbs. (You can also place the cookies in a zip top bag and use a rolling pin to crush into crumbs).
Mix the crumbs with the melted butter.
Evenly divide the mixture into 8 small cups and press down with a spoon to create your bottom crust layer.
Place cream cheese, Hershey's Spread and peanut butter in a bowl and mix on medium until combined and smooth.
Gradually mix in powdered sugar.
Pour in the condensed milk and continue mixing until smooth and creamy.
Gently fold in a quarter of the whipped topping to lighten the mixture.
Once combined, fold in the remaining whipped topping and pipe (or spoon) the mixture into the cups with the cookie crumb crust.
Cover with plastic wrap and refrigerate for 3 - 4 hours to set.
Serve chilled.
Top with additional whipped topping and chopped Reese's Peanut Butter Cups if desired.
Recipe by
I Heart Kitchen
at https://www.iheartkitchen.com/chocolate-peanut-butter-pie-cup/