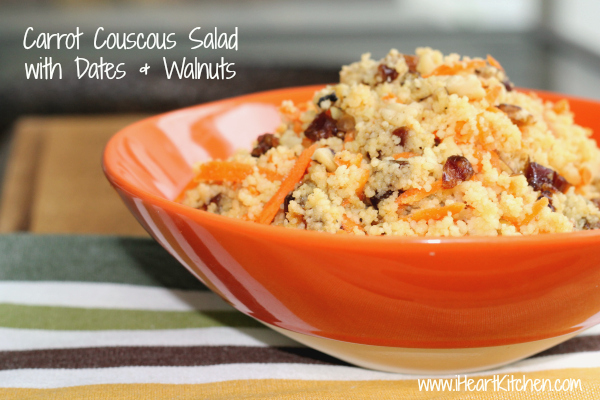 As many of you guys know we are in the process of moving from Georgia to Tennessee. When my house is finally done I will have the kitchen of my dreams. For now I am going back and forth between my old kitchen and a small two burner stove and convection microwave. That means I am doing a lot of quick and easy dinners since my kitchen situation is not ideal.
The recipe I decided to share with you guys today may be simple but it is packed with flavor. My recipe for Carrot Couscous Salad With Dates & Walnuts is a recipe that I'd make no matter the kitchen situation. It is a wonderful side dish to accompany chicken or pork. It can also be a great vegetarian meal paired with a salad.
Often you will see raisins paired with couscous but I prefer the rich flavor of the date. It adds a great texture and the perfect sweetness that compliments the other ingredients perfectly. The final touch of cinnamon makes this dish a standout. Just make sure you start with a pinch. The cinnamon can overpower the dish. You can always add more if you'd like.
Next time you are looking for a side dish that can be on the table in less that 10 minutes, give this one a try. Come back and let me know what you think.

Carrot Couscous Salad with Dates & Walnuts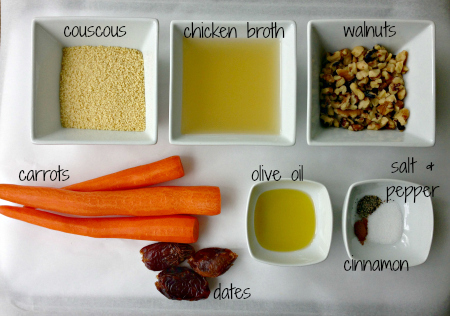 Ingredients
⅔ cup couscous
1 cup chicken broth
3 carrots, julienned or grated
3 large dates, chopped
⅓ cup walnuts, chopped
1 tablespoon olive oil
½ teaspoon salt
¼ teaspoon pepper
pinch cinnamon
Instructions
Bring the chicken broth to a boil, add couscous cover and remove from heat.
Allow to sit for 5 minutes then remove lid and fluff with fork.
Mix the remaining ingredients with the couscous and serve warm.
Notes
The cinnamon can quickly over power this dish so start with a pinch. You can always add a little more if you'd like.