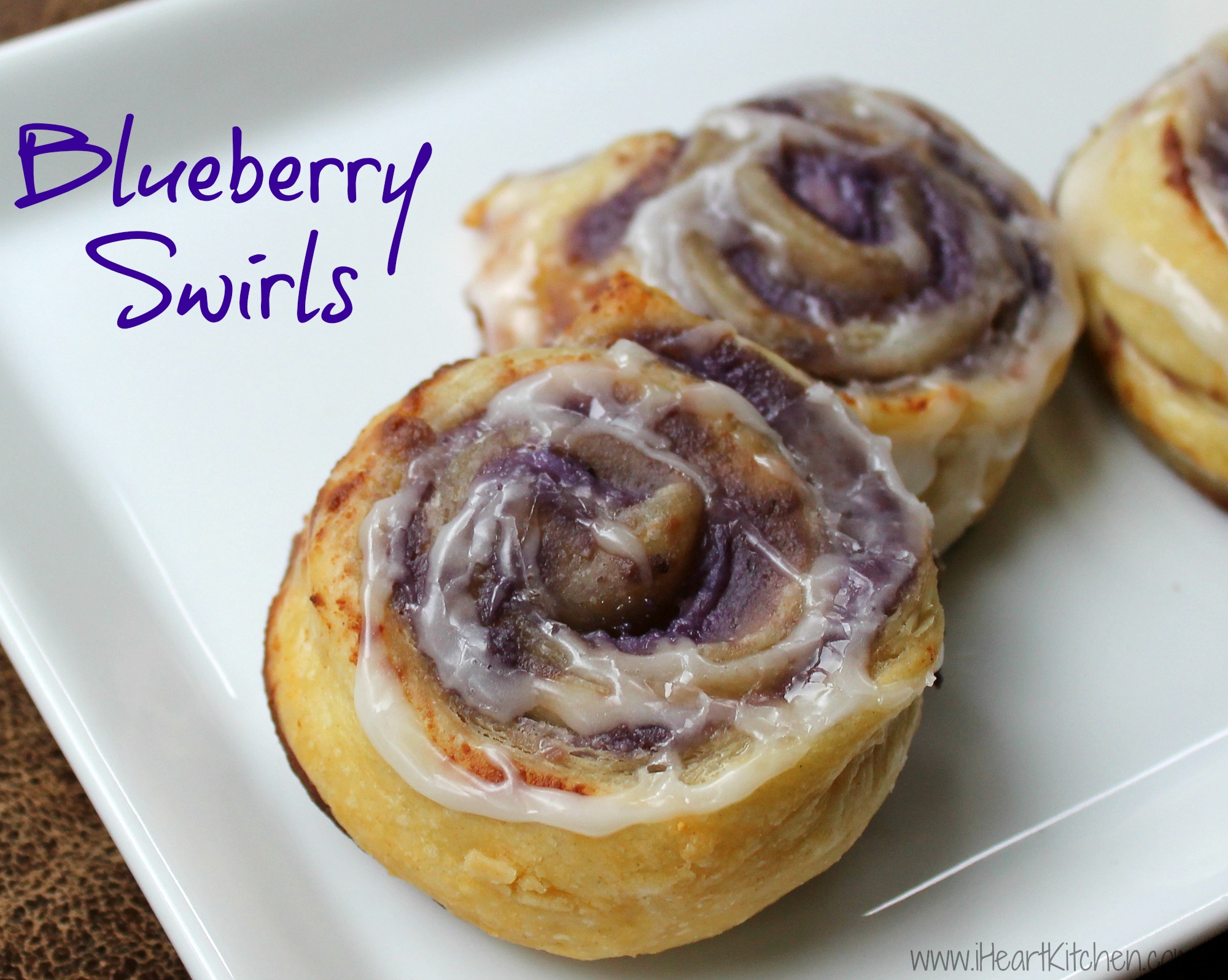 I had intended to do a fun Memorial Day dessert using lots of berries for my big cookout earlier this week. When my buddies all started texting letting me know that each of them had already planned on bringing other desserts, I decided that my dessert was unnecessary. I certainly didn't need to add anything extra to my long to do list.
I did make a big bowl of fruit salad for the party but I still had a bunch of berries that needed to be used. I had considered a batch of blueberry muffins but that seemed kinda boring. I looked in my freezer and saw some puff pastry sheets and decided to see if I could whip up a tasty treat for the boys.
Now my first thought was to make a homemade toaster strudel but instead I thought about adding in something creamy. I looked for some cream cheese but there was none to be found. Luckily there was a tub of ricotta hiding on one of the shelves. In a few minutes I had a batch of delicious Blueberry Swirls baked up and the boys and their friends gobbled them up in a flash!
These were really easy and according to my guys these go in the "keeper" file! The great thing is that I have plenty of extra Blueberry syrup that I can use as a topping on the Sara Lee pound cake that's hiding in my freezer. Gotta love when recipes pull double duty!

Blueberry Swirls - Ricotta & Blueberry Pastry Swirls
Ingredients
1 sheet puff pastry (allow to defrost according to package instructions)
1 pint blueberries
½ cup granulated sugar
¼ cup water
½ teaspoon lemon juice
½ cup ricotta cheese
¼ cup powdered sugar
½ teaspoon water
Instructions
Preheat oven to 400º f.
Place blueberries, water and sugar in a saucepan and boil for 10 minutes.
Add lemon juice and push the mixture through a fine mesh sieve reserving the syrup (discard the peels.) Allow to cool completely.
Mix ¼ cup of the blueberry syrup with the ricotta cheese.
Roll out the puff pastry on a floured surface.
Spread the blueberry ricotta mixture over the pastry.
Starting from the short end, roll the pastry up like a jelly roll.
Cut into 12 slices and place on a baking sheet.
Bake at 400º F for 15 - 18 minutes until golden brown.
Mix the powdered sugar and water until combined (add more sugar or water to get to desired consistency) and drizzle over the warm pastry swirls.