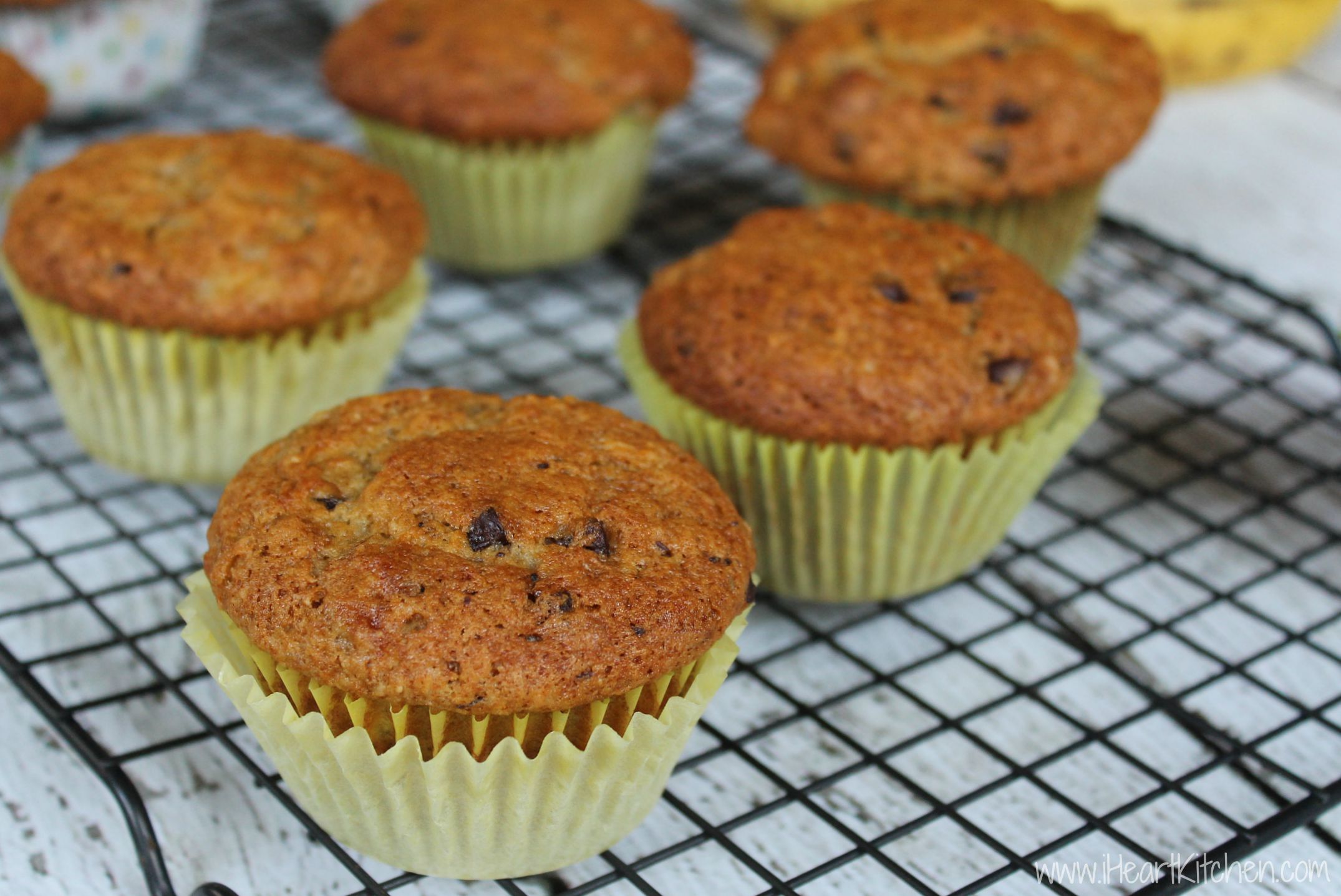 My boys get on kicks where they love bananas and eat two a day then will go three or four days before they eat another one. This week was one of those weeks where they weren't wanting a banana apparently! I ended up with 5 neglected bananas that were looking a bit lonely and over-ripe.
It doesn't really bother me too much because I know I can always use those bananas and turn them in to a tasty treat that I know they will happily gobble up! I often whip up a Chocolate Banana Bread With Walnuts or even…my favorite – a Blueberry Banana Coffee Cake. This week I opted to do a batch of Banana Peanut Butter Chocolate Chip Muffins.
Muffins are one of the easiest things to make. I have never understood why people buy the boxed mixes. It really doesn't take much more time to measure up your ingredients and bake up a batch of homemade muffins. They are super simple and the taste is fantastic. I timed these so that they'd be ready when the boys were coming home from school and they quickly polished off two within minutes of walking in the door. They were begging for more but I had already planned that these would be part of breakfast the next day…so those boys were out of luck!
The next time you see a couple of over-ripe bananas, try this recipe and see how long the muffins last at your house!

Banana Peanut Butter Chocolate Chip Muffins
Ingredients
1 cup mashed bananas (about 3 bananas)
⅔ cup sugar
1 egg
¼ cup peanut butter
5 tablespoons butter, melted
1½ cups flour
1 teaspoon baking powder
1 teaspoon baking soda
¼ teaspoon salt
2 tablespoons mini chocolate chips
Instructions
Preheat oven to 350º F.
In a medium bowl, mix the mashed bananas, sugar, egg and butter and peanut butter until combined.
Sift in the flour, baking powder, baking soda and salt.
Add the chocolate chips.
Stir until moistened - do not over mix!
Scoop batter into 12 paper lined muffin cups.
Bake at 350º F for 25 minutes.
Cool on baking rack.