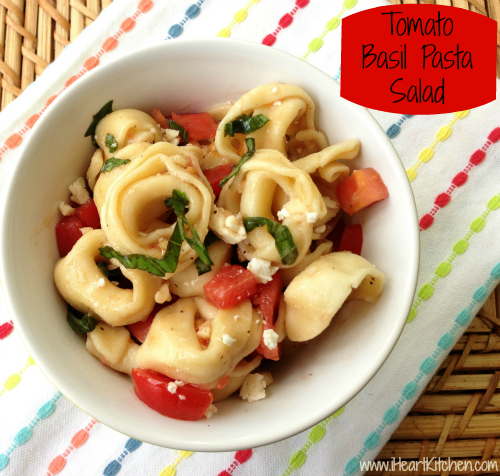 If you are visiting me from one of my other websites…you may be shaking your head thinking I have lost my mind. Some days I wonder if I really am a bit insane.
I cook almost every single day. Having a husband and two growing boys means that I cook a whole lot. I figure if I have to cook, I might as well share the love. The goal of this site is to encourage you to love your kitchen – thus the name I Heart Kitchen. Well, that and it kinda works with the theme of my other three sites 😉
Today I wanted to share one of my favorite summer dishes – Tomato Basil Pasta Salad. This is a super easy pasta salad and it gets better the longer it sits in the refrigerator. I have been making this salad for almost 20 years. This is the dish that I would always bring to potlucks, baby showers and family gatherings. I think at one point it was just called "Michelle's Pasta".
When my husband and I were first married, I would whip this dish up and eat it for lunch over the week. My husband would never touch it. He'd look at it – ask where the meat was, snub his nose at it and then pop the lid back on. One day I guess he found himself in a situation where it was eat the pasta salad or cook something for himself. Guess what – he LOVED the pasta salad.
Every once in a while, he'll get a little smirk on his face and ask me to whip up some of "HIS" pasta salad. What a nut…

Tomato Basil Pasta Salad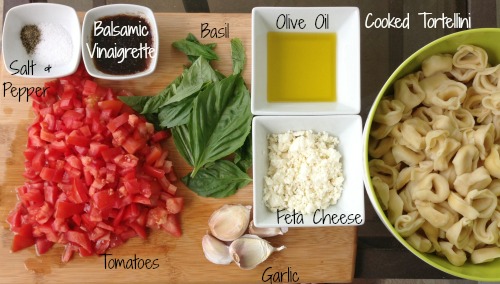 Ingredients
12 oz bag Frozen Tortellini, prepared according to directions
1 pound tomatoes, chopped
¼ cup olive oil
4 tablespoons Balsamic Vinaigrette
½ cup basil, chopped
5 cloves of garlic, minced
½ teaspoon salt
½ teaspoon pepper
½ cup feta cheese, crumbled
Instructions
Combine all ingredients in a large bowl and mix well.
Adjust seasoning as needed.
Refrigerate before serving.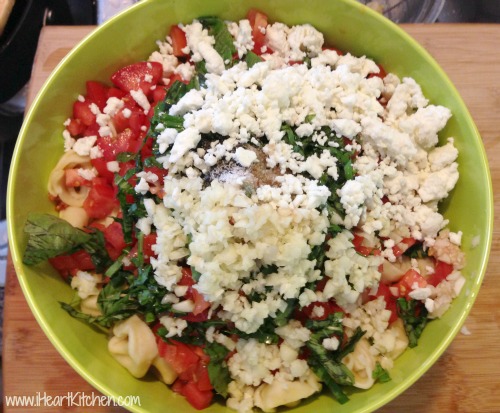 The great thing about this recipe is that once you have all of your ingredients together you just toss everything in a big bowl and mix.
Don't be afraid of the garlic. I know some of you are thinking – did she really just put 5 huge cloves of garlic in that dish. The garlic makes this salad fabulous. If you are afraid of the quantity of garlic you can adjust if you'd like.  That's what I love about salads, you can really modify to your preference.
Like many pasta salads, this one gets better the longer you let it sit in the refrigerator. Enjoy!