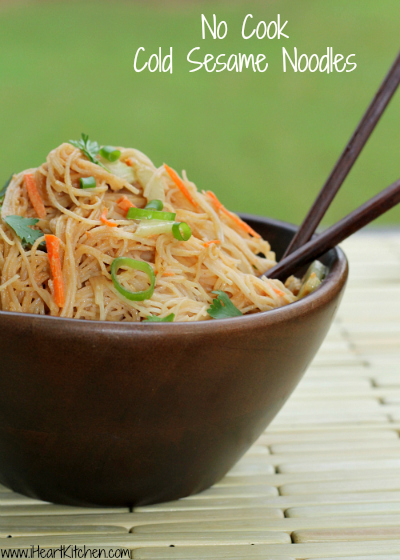 I don't know about you guys but I love recipes that I can put together without turning on the stove, oven or even firing up the grill. My recipe for No Cook Cold Sesame noodles is so easy and so delicious – perfect for a night when you need dinner in a hurry.
This week I paired the noodles with some Grilled Swordfish & Pineapple Kabobs and let me tell you it was a fantastic meal! I started soaking my noodles when I skewered the kabobs and then had the noodles finished while my husband cooked the kabobs!
These noodles are great as a simple lunch or dinner. You can use them as a side dish or I have been known to toss in leftover chicken or pork to make this a meal.

No Cook Cold Sesame Noodles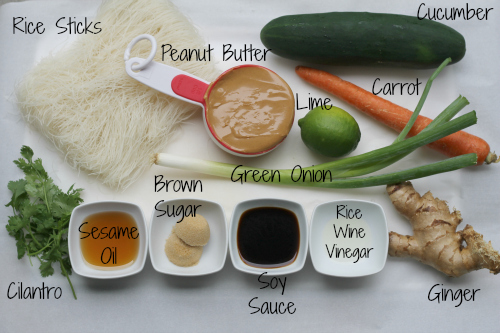 Ingredients
1 package rice sticks, prepared according to package instructions (soak in hot water to soften - no cooking necessary)
1 carrot, julienned
1 cup cucumber, chopped
½ cup peanut butter
1 lime, juiced
1½ tablespoons sesame oil
2 tablespoons brown sugar
2 tablespoons soy sauce
1 teaspoon rice wine vinegar
1 tablespoon ginger, grated
2 tablespoons cilantro
1 -2 green onions, sliced
Instructions
In a large bowl, mix peanut butter, lime juice, sesame oil, brown sugar, soy sauce, vinegar and ginger until smooth. The consistency should be like heavy cream. If it is too thick add a little hot water as needed until pourable.
Pour the sauce over the noodles.
Add carrots and cucumber and toss to combine.
Sprinkle with cilantro and green onion before serving.
Notes
You can substitute the rice sticks with any thin noodle such as angel hair.