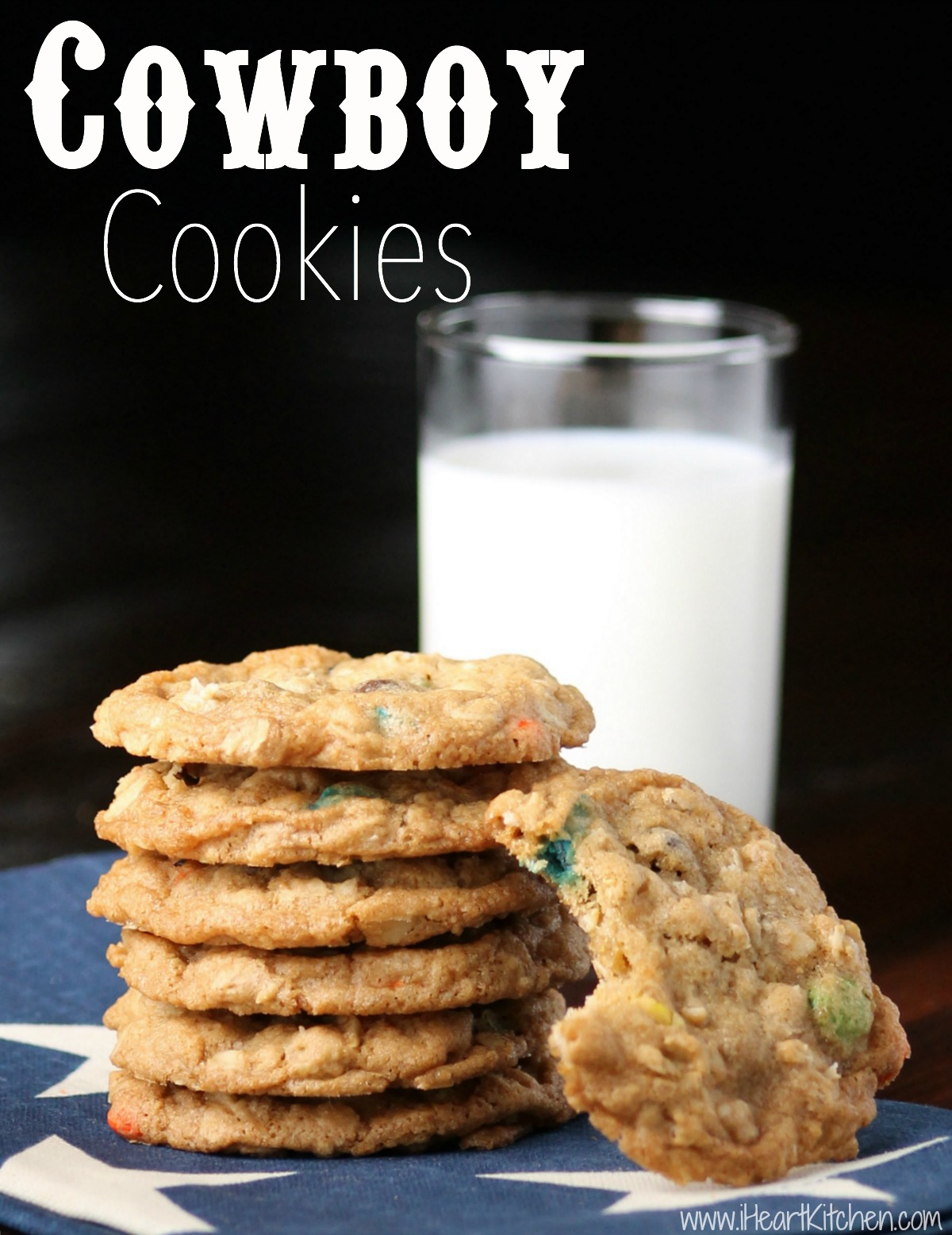 With two little boys in the house you can imagine the number of requests that I get for cookies each week. While you might think those pre-made refrigerated doughs are quick and easy…this recipe is almost just as fast and it's a million times better!
This recipe is one of the recipes that was in my husband's mother's cookbook. His mom passed away before we met but I was lucky enough to get access to her cookbooks and was able to copy some of my husband's favorite recipes. The recipe for Cowboy Cookies was one that he insisted that I get.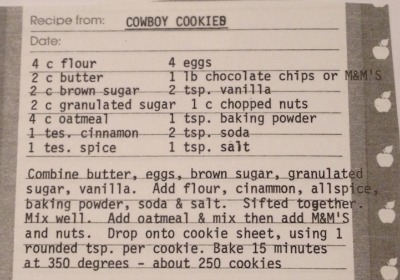 Here's a picture of the actual recipe…can you tell that it was done on a typewriter? Yep–it's a really old recipe. These are the cookies that my 40 something year old husband had when he was a little boy.
Now, I have no idea why these are called Cowboy Cookies. I asked my husband and he had no clue either. I did a search of the term and there are a million different versions with the same name but none offer an origin.
Well, even though I can't tell you where the name comes from – I can tell you that they are delicious! Plus they are really easy…you don't even need to pull out your mixer!
You'll notice that my recipe differs slightly from the original. You see I can't think of any time that I would need 200 cookies–tee hee. The first time I made these, I did the full recipe. Now, I only make a quarter of the recipe. I use a small trigger scoop and generally get 36 – 40 cookies with a quarter batch. That's more than enough for us!
Keep in mind that you can make the full batch and have cookies to feed an army if needed 😉 I hope you like them as much as we do!

Cowboy Cookies
Ingredients
½ cup butter, softened
½ cup brown sugar, packed
½ cup granulated sugar
½ teaspoon vanilla
1 egg
1 cup flour
¼ teaspoon cinnamon
¼ teaspoon allspice
¼ teaspoon baking powder
½ teaspoon baking soda
¼ teaspoon salt
1 cup oats (quick or old fashioned)
¼ cup chocolate chips
¼ cup mini M&M's
¼ cup chopped nuts (I like walnuts or pecans)
Instructions
Preheat oven to 350º F.
Combine the softened butter, sugars, egg and vanilla and mix by hand until creamed together.
Sift together the flour, cinnamon, allspice, baking powder, baking soda and salt then add to the butter mixture and stir until combined.
Gently mix in the oats, chocolate chips, M&M's and nuts.
Drop onto baking sheet by rounded teaspoon and bake at 350º for 15 minutes.