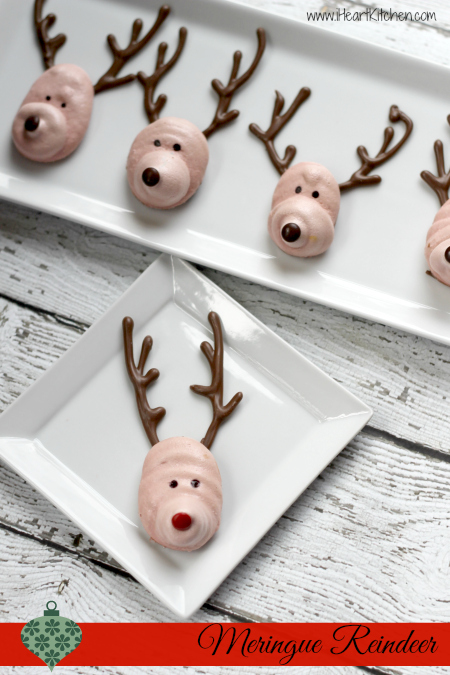 Products for this recipe sponsored by Good Cook
 I love the holidays. I love all the decorations, the excitement and of course the food. My boys love the holidays just as much as I do so they are always trying to help me come up with fun recipes. When I was challenged to come up with a cookie recipe I considered pulling out a few classics that I do each year.
I found a picture of meringue snowmen in a magazine a couple of years ago. I made them and they were a hit – everyone who saw them would comment how much they loved them. They are easy to make and who doesn't love meringue? While I do love the snowmen, I started thinking about some other things I could do with the meringue. I wanted to do something new that was fun and festive. I started thinking about what else would fit with the holiday cookie them. I asked my boys what they thought I should do and my oldest son looked at me and said…"just make Rudolph cookies". So that is exactly what I did!
Meringue is really easy to work with provided you use the right decorating tip. One you pipe it out, it holds it's shape beautifully. After a few attempts at a reindeer head, I found a basic shape that I liked and quickly had enough reindeers to pull at least 5 sleighs.
These were a huge hit at my house, I hope you like them too! Have fun making your own Meringue Reindeer Cookies.

Meringue Reindeer Cookies
Ingredients
4 egg whites at room temperature
1 tablespoon white vinegar
1 tablespoon cornstarch
1 cup super fine granulated sugar or caster sugar
½ teaspoon vanilla
brown food coloring
colored mini chocolate candies in brown & red
black decorating gel
chocolate flavored almond bark
Instructions
Preheat oven to 200 degrees.
Add egg whites to a clean, dry mixer bowl. With whisk attachment, beat egg whites on low until frothy (approximately 30 seconds).
Add vinegar and cornstarch and beat another minute until soft peaks form.
Slowly pour in the sugar and vanilla and beat 4 - 5 minutes until stiff peaks form.
Add in the food coloring and mix until incorporated.
Transfer meringue to a decorating bag with a 2A tip.
Line baking sheet with parchment paper and pipe reindeer heads by dragging the tip to create an oval then mounding the bottom to create the nose.
Add a candy coated chocolate to the tip of the "nose" and add dots for eyes with the black decorating gel.
Place in preheated 200 degree oven and bake for 90 minutes.
Leave cookies in oven to cool for 6 hours or overnight.
Melt almond bark and pipe antlers onto parchment paper and allow to harden completely.
To attach the antlers to the head: Arrange two antlers on parchment paper then drop a dollop of the melted almond bark on the bottom of each antler.
Gently place the reindeer head over the chocolate dollops and allow to harden.
Peel the parchment paper from the reindeer and serve.
Store in an airtight container.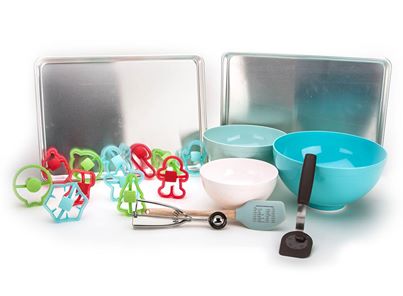 To help me with my recipe, the folks at Good Cook sent me a fantastic kit that included the following:
Starting Tuesday, 12/17, you can head over to the Good Cook page for a chance to win one of 10 baking kits. You guys will love these. Those pans ROCK! If you need to get a head start you can use the code COOKIES to get 5% off any Sweet Creations product.