Meringue Reindeer Cookies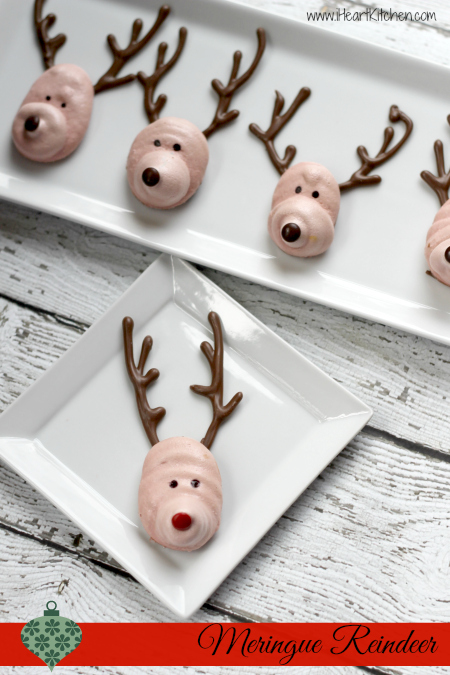 4 egg whites at room temperature
1 tablespoon white vinegar
1 tablespoon cornstarch
1 cup super fine granulated sugar or caster sugar
½ teaspoon vanilla
brown food coloring
colored mini chocolate candies in brown & red
black decorating gel
chocolate flavored almond bark
Preheat oven to 200 degrees.
Add egg whites to a clean, dry mixer bowl. With whisk attachment, beat egg whites on low until frothy (approximately 30 seconds).
Add vinegar and cornstarch and beat another minute until soft peaks form.
Slowly pour in the sugar and vanilla and beat 4 - 5 minutes until stiff peaks form.
Add in the food coloring and mix until incorporated.
Transfer meringue to a decorating bag with a 2A tip.
Line baking sheet with parchment paper and pipe reindeer heads by dragging the tip to create an oval then mounding the bottom to create the nose.
Add a candy coated chocolate to the tip of the "nose" and add dots for eyes with the black decorating gel.
Place in preheated 200 degree oven and bake for 90 minutes.
Leave cookies in oven to cool for 6 hours or overnight.
Melt almond bark and pipe antlers onto parchment paper and allow to harden completely.
To attach the antlers to the head: Arrange two antlers on parchment paper then drop a dollop of the melted almond bark on the bottom of each antler.
Gently place the reindeer head over the chocolate dollops and allow to harden.
Peel the parchment paper from the reindeer and serve.
Store in an airtight container.
Recipe by
I Heart Kitchen
at https://www.iheartkitchen.com/reindeer-meringue-cookies/