Products for this recipe sponsored by Good Cook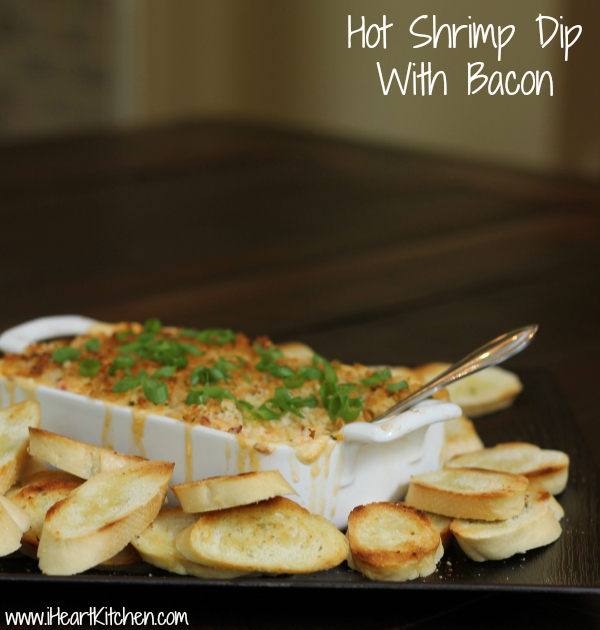 The folks at Good Cook sent me a fantastic cast iron bacon press recently – so you know I had to put that baby to use. I asked my football loving husband if he had any requests for his "day of college football watch-o-rama" and his response was – DIP! I put on my thinking cap and decided that I was in the mood for a seafood dip….hmmm- how about a seafood dip with bacon. Bacon makes everything better right?
I came up with a fabulous recipe that is perfect for an appetizer or a crew of hungry football fans 😉 I decided to go with shrimp and bacon because they are delicious together. This was deemed a keeper by everyone in my house.
My recipe for Hot Shrimp Dip with Bacon is so simple to prepare and will feed a bunch of hungry folks.

Hot Shrimp Dip With Bacon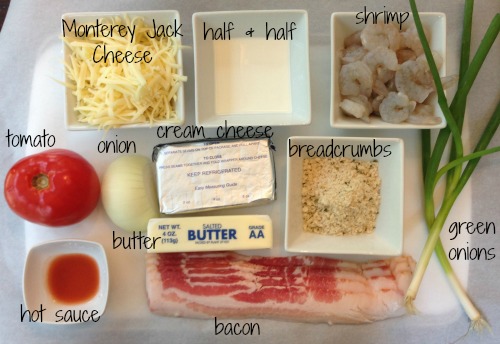 Ingredients
1 pound shrimp, peeled and deveined
2 tablespoons onion, chopped
4 oz bacon, cooked crisp and crumbled.
¼ cup half & half
1 cup Monterey Jack Cheese, shredded
8 oz cream cheese, at room temperature
1 large tomato, chopped
1 tablespoon hot sauce (more if desired)
2 teaspoons butter, divided
½ cup bread crumbs
green onions for garnish
Instructions
Preheat oven to 425 degrees.
Add 1 teaspoon butter to skillet and cook onions for 2 - 3 minutes then add shrimp and cook about 2 - 3 minutes (until shrimp is pink).
In large mixing bowl combine cream cheese, Monterey Jack Cheese, hot sauce, and half & half.
Fold in shrimp, bacon and tomatoes.
Pour into small casserole dish and top with buttered breadcrumbs (breadcrumbs mixed with 1 teaspoon melted butter).
Bake at 450 degrees for 20 minutes or until bubbly and breadcrumbs are golden brown.
We loved this served with crusty bread.
I love that
Bacon Press
 for this recipe. You get evenly cooked bacon without those annoying curled edges. Paired with the 
Cast Iron Grill
, I had perfectly cooked bacon for my dip in no time flat. If you are not cooking on cast iron you really should be!!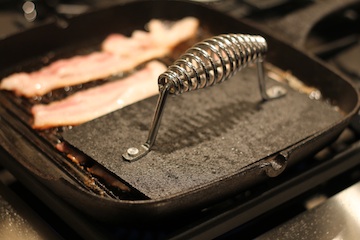 Both the bacon press and the cast iron grill are items that you will use constantly in your kitchen. Right now you can pick them up for 25% off using the code BaconLovers at check out. The code is good on all of the Good Cook Burger Tools.