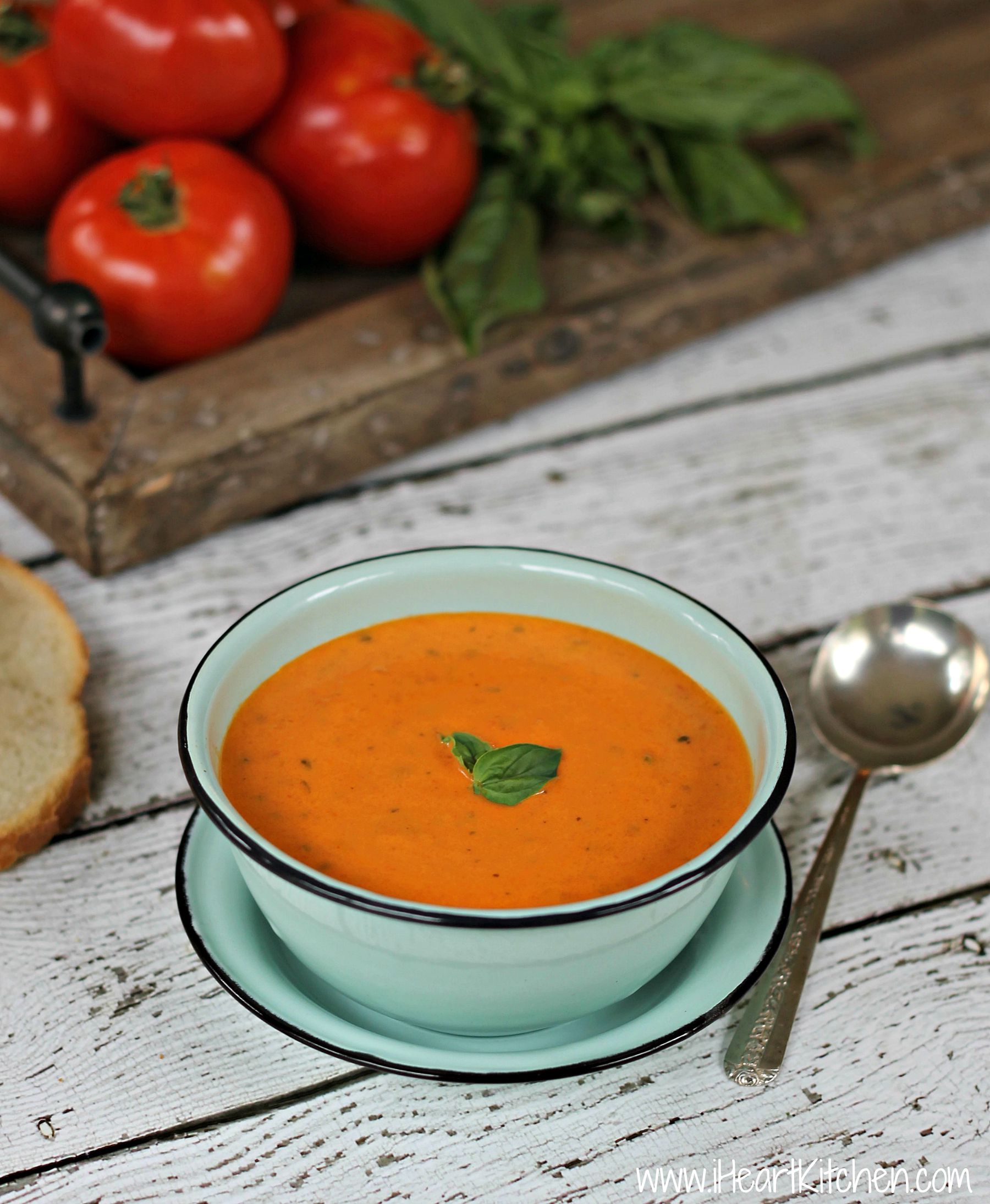 My mom came to visit recently and whenever she comes she always brings me bags of goodies from her garden. There is just nothing better than fresh cucumbers, okra, and eggplant. But my favorite thing is a red, juicy, ripe tomato!
Her garden was overflowing so she brought a ton of veggies. She brought so many tomatoes, there was no way that I'd be able to eat them all before they went bad. I knew I'd have to do something with them so I decided to make one of my other favorite things – Creamy Fresh Tomato Basil Soup.
I'll go ahead and warn you that you might want to double the recipe if you plan on sharing this soup with anyone. It never fails that I tell myself that I am done and then I take another bite…and then another….and then another…and another. Until finally I just pull the bowl out of the fridge and finish it off!
This is the perfect tomato soup and beats any canned soup that you've ever had. The fresh tomatoes and basil just makes this soup incredible. If you find yourself with an abundance of fresh tomatoes this is a must-make recipe. If you don't have an abundance of fresh tomatoes…go hunt some down! I promise this recipe is worth it!

Creamy Fresh Tomato Basil Soup
Ingredients
3 tablespoons butter, divided
1 medium Vidalia onion, chopped
4 cloves garlic, chopped
4 cups fresh tomatoes, chopped
2 cups chicken stock or broth
2 tablespoons fresh basil, chopped
2 tablespoons flour
½ teaspoon sugar
1 teaspoon salt
½ teaspoon black pepper
1 tablespoon balsamic vinegar
1 cup heavy cream
Instructions
Add one tablespoon of butter into a large pot and saute the chopped onion and garlic for 2 -3 minutes until softened.
Add the chopped tomatoes and bring to a boil.
Pour in the chicken stock and simmer on medium-low heat for 20 minutes.
Add the basil then use an immersion blender to puree the soup. (You can also use a blender or run through a food mill if desired.)
In a small pot, melt 2 tablespoons of butter over medium-low heat and add the 2 tablespoons of flour. Mix to combine and cook the roux for about one minute.
Add ½ cup of the pureed soup to the roux and whisk together to remove all lumps.
Spoon/pour the roux into the hot soup and whisk to combine.
Cook over medium for 2 minutes.
Add the sugar, salt, pepper, balsamic vinegar and the cream and serve.