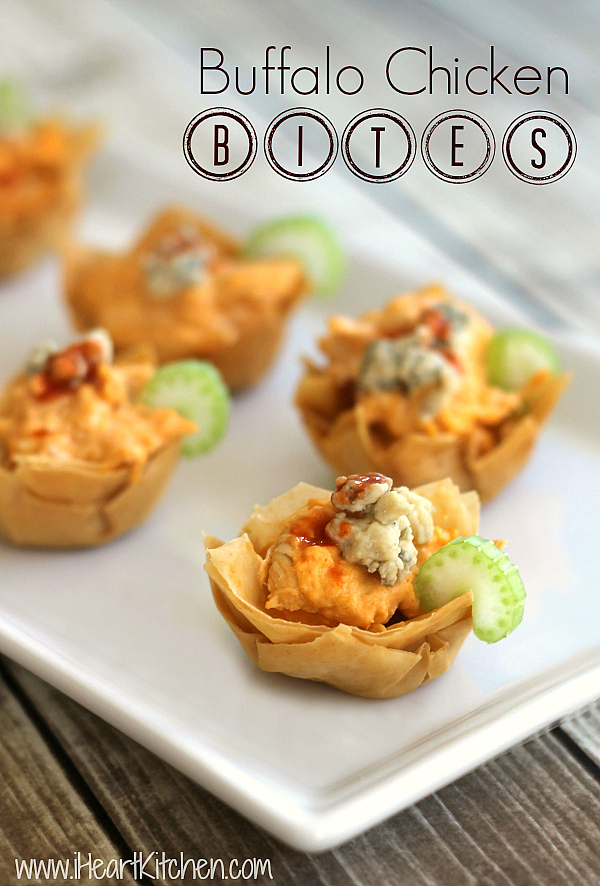 Looking for a delicious game day appetizer that your guests will love? Try my Buffalo Chicken Bites at your upcoming football party. These little treats use combine the delicious buffalo chicken dip that we all love in a handy little edible cup – no chips or crackers needed.
My favorite type of party snack are ones that you can grab and go. These are the perfect little bite size treat and while it may look difficult, you can put these together in no time flat. The phyllo bakes up super quick then it's just a matter of filling the cups. A little garnish and you are ready to serve a big crowd of hungry guests.
Buffalo Chicken Bites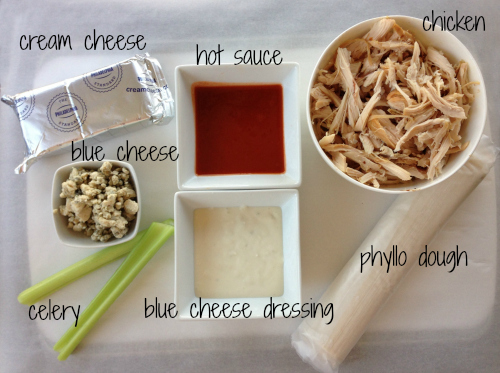 Ingredients
8 oz cream cheese, softened
½ cup hot sauce + extra for garnish - Frank's is my favorite!
½ cup blue cheese dressing
2 cups rotisserie chicken, shredded
18 sheets phyllo dough
2 celery stalks, sliced
2 tablespoons blue cheese crumbles
butter or olive oil
Instructions
Prepare dip
Preheat oven to 350 degrees.
Combine chicken, ½ cup hot sauce, blue cheese dressing and softened cream cheese.
Place mixture in small casserole dish and bake for 30 minutes until heated through.
Prepare phyllo cups
While the dip is baking, prepare the phyllo cups.
On a clean work surface, get one sheet of phyllo dough then spray with olive oil (or lightly brush with butter)
Stack another phyllo sheet on top then spray with oil then repeat with a third layer
Using a sharp knife (or pizza cutter) cut the long side of the stacked phyllo sheets down the middle creating two long rectangles. Slice each long rectangle in half lengthwise.
Cut the short length in half then cut each half twice creating 24 squares.
Spray a mini muffin pan with cooking spray then press one stack of phyllo squares into the muffin cup.
Take a second stack of phyllo squares and turn the points opposite of the original square then press into the same cup to cover the whole muffin cup.
Continue this process until you have 72 mini muffin cups filled (three 24 cup pans)
Bake in a 350 degree oven for 8 minutes or until lightly browned.
Remove from oven and allow to cool.
Assembly
Fill each baked phyllo cup with a teaspoon of the warm dip.
Sprinkle with a few drops of hot sauce, a few blue cheese crumbles and a slice of celery.
Serve warm.