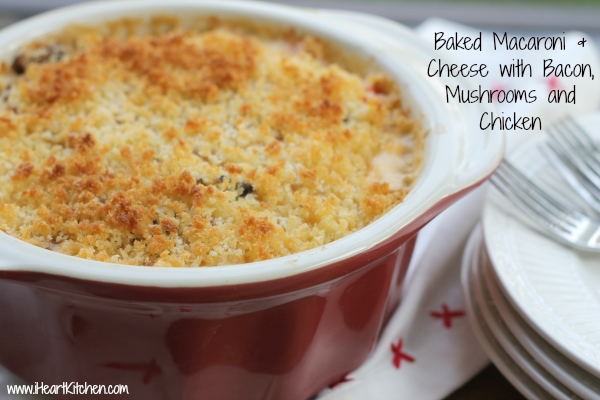 Some days you need a big helping of comfort food. There is nothing better than a big bowl of homemade macaroni and cheese. Now, I am not talking about the kind you make with a box and powdered cheese sauce. I am talking about the creamy, melt in your mouth kind of mac & cheese that will have you going back to the dish for seconds.
The recipe that I make is my take on a recipe from an old cookbook from the 40's (Fannie Farmer's Boston Cooking School Cookbook). It really just requires that you make a good rue and use a quality cheese. It takes a few minutes to cook up the rue but it is not complicated and the results are fantastic. The sauce is the creamiest that I have ever had. I always whip this one up for holiday meals and of course whenever I get a hankering.
The basic mac & cheese recipe is fantastic as a side dish and goes to a whole other level when you add in a few extras. With the addition of sauteed mushrooms, tomatoes, crisp bacon and some grilled chicken, the macaroni and cheese becomes a main dish that your whole family will flip over. Try this recipe for Baked Macaroni & Cheese with Bacon, Mushrooms and Chicken when you need a big helping of comfort food….you won't be disappointed.

Baked Macaroni & Cheese with Bacon, Mushrooms and Chicken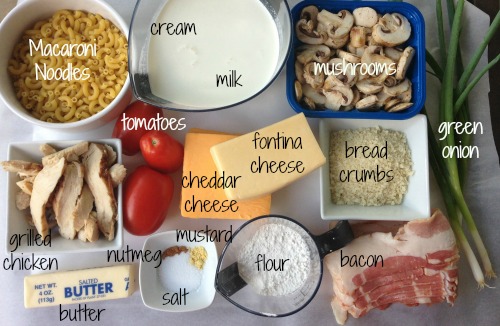 Ingredients
8 oz macaroni noodles
7 tablespoons butter, divided
⅓ cup flour
1½ cups heavy cream
1½ cups milk
1 teaspoon salt
½ teaspoon nutmeg
¼ teaspoon mustard
1½ cups sharp cheddar, grated
1½ cups fontina cheese, grated
½ cup bacon, cooked crisp and crumbled
2 - 3 Roma tomatoes, chopped
8 oz mushrooms, sliced
1 cup grilled chicken, sliced
½ - ¾ cups panko breadcrumbs
green onions for garnish
Instructions
Preheat oven to 400 degrees.
Cook pasta according to package directions, drain and set aside.
Sautee mushrooms in one tablespoon of butter until golden brown and set aside
Melt 6 tablespoons of butter in large saucepan.
Combine flour, salt, nutmeg and mustard then add to melted butter and whisk until smooth.
Add milk and cream, stir constantly while cooking on medium high until mixture boils.
Reduce heat to medium and continue to cook for 10 minutes while stirring constantly.
Add cheeses and stir until melted.
Remove from heat.
Add cooked noodles, cooked bacon, chopped tomatoes, chicken and mushrooms to the cheese sauce and toss to coat.
Pour into casserole dish, sprinkle with buttered breadcrumbs and bake on 400 degrees for 20 minutes.
Serve topped with sliced green onions.
Notes
Be sure and cook the cheese sauce for the full 10 minutes. The rue will taste like flour if not cooked.

For plain mac & cheese, skip the extra ingredients added in step #9. Top with breadcrumbs and bake as listed.
I usually pull out one serving of mac and cheese that I bake in a ramekin then use my
1.5 qt Good Cook Casserole dish
after I have all the extras added in. My little one is a basic kind of guy and like the plain and simple version.
Inspired by the recipe from Fannie Farmer's Boston Cooking School Cookbook