Broccoli & Swiss Stuffed Chicken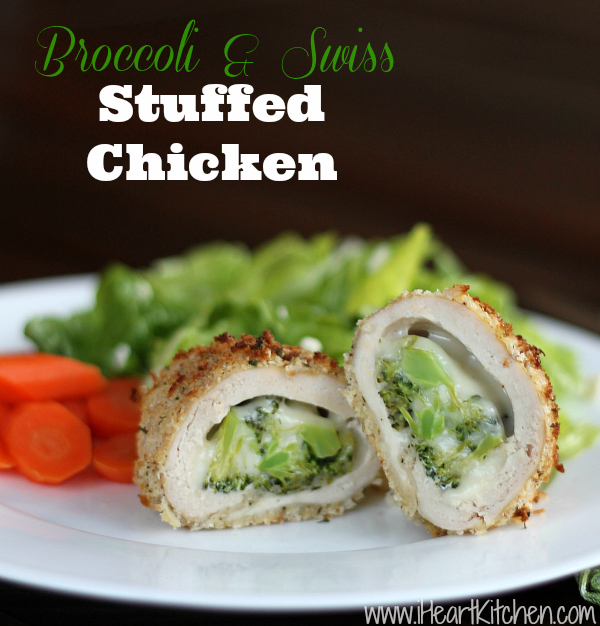 2 lbs chicken breast cutlets pounded thin (I used 3 large breasts that I cut in half lengthwise)
6 slices swiss cheese - I used low fat
1 cup fresh broccoli, chopped
½ cup flour
1 egg
1 tablespoons water
¾ cup Panko breadcrumbs
½ teaspoon salt
½ teaspoon pepper
cooking spray
Preheat oven to 375º F.
Place chicken cutlets between sheets of wax or parchment paper and use a meat mallet to pound super thin (approx ⅛ inch thick). Be sure to pound the edges as thin as possible as it will help to seal the rolled chicken.
Place 1 piece of swiss cheese and a small mound of broccoli in the middle of each pounded chicken cutlet.
Fold the short sides of the pounded chicken over the filling then start at one end and roll the chicken until you have a tightly sealed mound. Repeat this process with all chicken cutlets.
Create your breading station by placing the flour into a shallow dish, beaten egg mixed with water in another shallow dish and breadcrumbs into a third shallow dish.
Sprinkle each rolled chicken with salt and pepper then roll in the flour.
Next dip the floured chicken into the egg/water mixture.
Finally roll the chicken in the Panko bread crumbs.
Repeat this with remaining rolled chicken cutlets.
Place chicken on a foil lined baking sheet and lightly spray the chicken with cooking spray.
Place chicken into the 375ºF oven and cook for 25 - 30 minutes or until done.
If needed you can broil the chicken for 1 -2 minutes to brown the top of the chicken.
Serve warm.
Recipe by
I Heart Kitchen
at https://www.iheartkitchen.com/broccoli-swiss-stuffed-chicken/