Stuffed Cabbage Rolls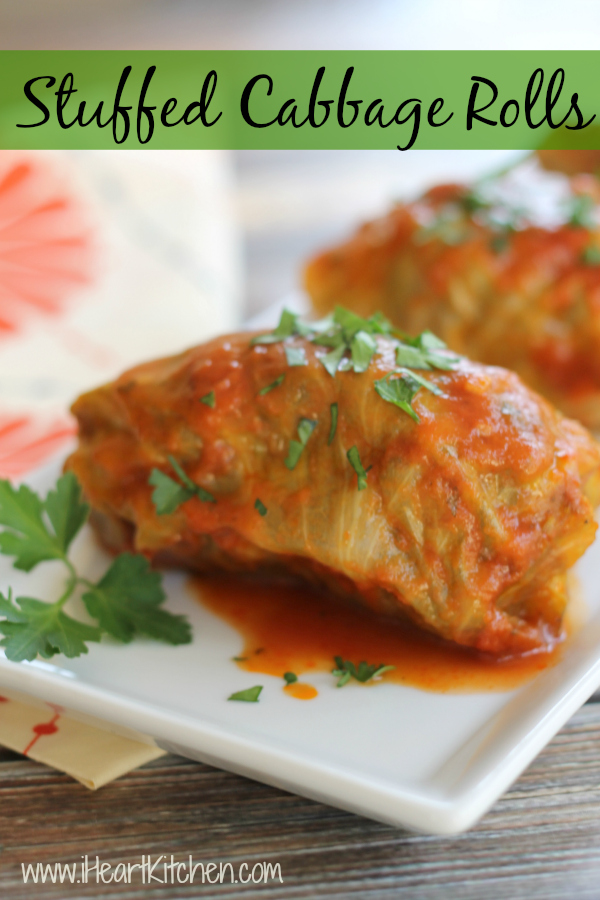 1 head green or savoy cabbage, 8 - 10 leaves
1 pound lean ground beef
½ cup bread crumbs
½ cup cooked rice
1 carrot, grated
1 zucchini, grated
1 medium onion, chopped
3 cloves garlic, minced
½ bunch fresh chopped parsley, divided
2 teaspoon salt, divided
2 teaspoon oregano, divided
1 teaspoon black pepper, divided
¼ teaspoon cinnamon
32 ounces tomato juice
8 oz tomato sauce
1 tablespoon olive oil
Bring a large pot of water to a boil.
Cut the core from the head of cabbage and place in boiling water for 5 minutes.
Remove the head of cabbage and pull off the top leaves being careful to leave them intact.
Place the cabbage back in the water again for a few minutes, remove and pull more leaves. Continue until you have 8 - 10 whole cabbage leaves.
Create the filling by combining the ground beef, rice, breadcrumbs, carrot, zucchini, 1 teaspoon of salt, 1 teaspoon of oregano, ½ teaspoon of pepper and ¼ teaspoon of cinnamon.
Mix the ingredients in a large bowl until combined.
Add 2 - 3 tablespoons of the stuffing on a cabbage leaf.
Fold the sides over the filling then roll from the base end to the end of the leaf. The cabbage will easily seal around the filling.
Repeat until the filling is gone.
In a large pot, sauté the onion in olive oil for 2 - 3 minutes.
Add the garlic and sauté about a minute, until fragrant.
Add 1 teaspoon of salt, 1 teaspoon of oregano, ½ teaspoon of black pepper and chopped parsley - stir until combined.
Pour the tomato sauce and tomato juice into the pan and simmer for 5 minutes.
Add the cabbage rolls to the sauce and cover.
Cook the rolls on low, allowing to simmer for 45 minutes - 1 hour (do not cook on too high of heat or the rolls will stick to the pan and burn).
Serve with the remaining sauce.