Baked Loaded Potato Puffs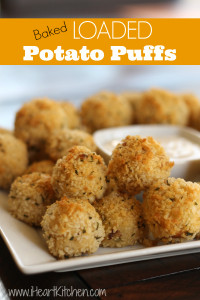 4 medium potatoes, peeled and cubed
½ cup milk
½ cup cheese
1 tablespoon butter
3 strips bacon, cooked crisp and chopped
2 tablespoons green onion, chopped
2 eggs, beaten
1 teaspoon salt
¼ teaspoon black pepper
½ teaspoon garlic powder
¾ cup seasoned Panko breadcrumbs
Cooking Spray
Preheat oven to 375 degrees.
Boil the potatoes until softened
Drain and mash with the butter and milk. - I use a potato ricer for a super smooth consistency!
Mix in the salt, pepper, garlic powder, green onion, cheese, bacon and eggs.
Use a small scoop to create 1" balls of the potato mixture.
Roll the potato balls in the Panko breadcrumbs and place on a baking sheet lined with parchment paper.
Repeat until the potato mixture is used.
Spray the breadcrumb coated potato balls with cooking spray and cook in a 375 degree oven for 35 - 45 minutes or until puffed and lightly browned.
Serve warm with ranch dressing or sour cream.
Recipe by
I Heart Kitchen
at https://www.iheartkitchen.com/baked-loaded-potato-puffs/