Chicken Cordon Bleu Roll Ups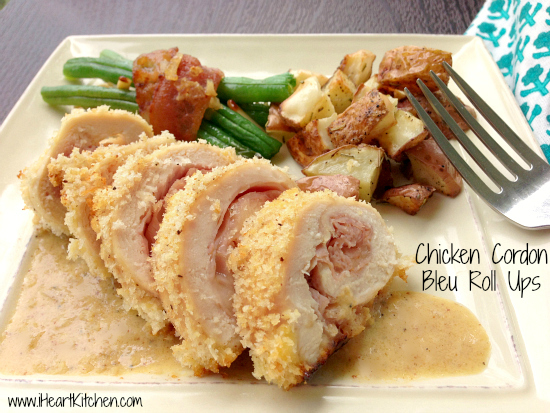 cooking spray
1 pound chicken breast fillets, pounded thin (approx. 4 fillets)
6 - 8 oz thin sliced ham
4 oz sliced swiss cheese
1 egg, beaten
3 tablespoons honey dijon mustard, divided
¼ cup milk
¾ cup panko breadcrumbs
½ tablespoon butter
1 tablespoon shallot, minced
¼ cup chicken broth
⅓ heavy cream or half & half
1 teaspoon garlic powder
1 teaspoon salt
½ teaspoon pepper
Preheat oven to 375 degrees.
Place a slice of ham and 1 ounce of cheese on each chicken breast.
Starting at short end, roll each chicken breast tightly tucking the ends to seal in ham and cheese.
Secure with toothpicks.
Mix egg, 2 tablespoons of mustard and milk in a shallow bowl.
In another shallow bowl or plate, combine breadcrumbs, salt, pepper and garlic powder.
Dip rolled chicken in egg wash then roll into breadcrumb mixture, packing the crumbs onto the chicken.
Place each rolled breast on a lightly greased baking sheet.
Spray the top of each roll lightly with cooking spray.
Bake for approximately 30 minutes or until chicken is golden brown and cooked through.
Melt 1 teaspoon of butter in a small saucepan, add shallots and cook until translucent.
Add chicken broth and cream (or half & half).
Simmer until reduced by half.
Stir in 1 tablespoon honey dijon mustard.
Adjust seasoning if needed.
Serve sauce with cooked chicken.
Recipe by
I Heart Kitchen
at https://www.iheartkitchen.com/chicken-cordon-bleu-roll-ups/