Homemade Honey Graham Sticks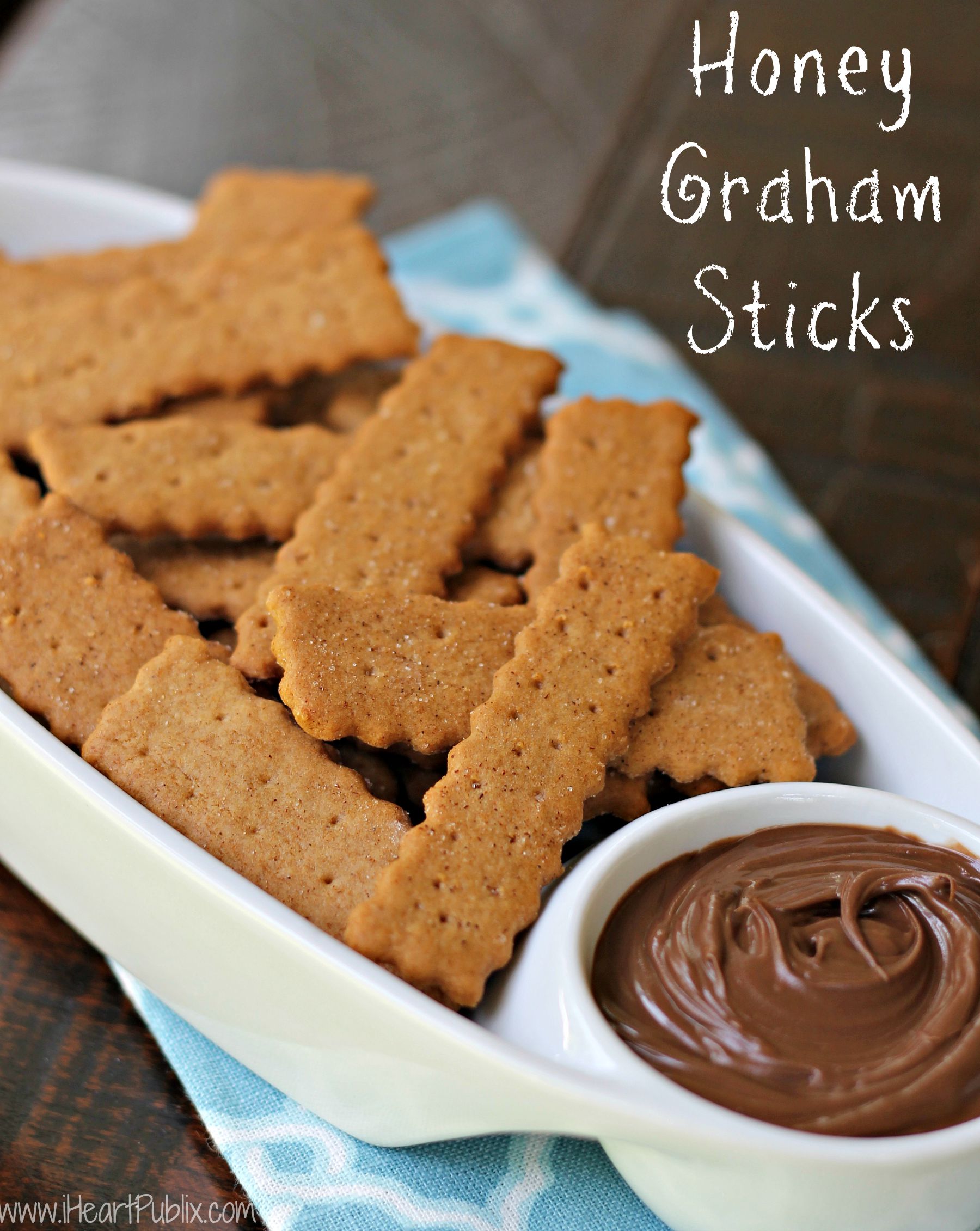 2½ cups all purpose flour
1 teaspoon baking soda
½ teaspoon salt
1¼ teaspoon cinnamon (divided)
¾ cup packed brown sugar
½ cup cold butter, cubed
¼ cup whole milk
2 teaspoons vanilla
⅓ cup honey
2 tablespoons sugar
Add the flour, sugar, baking soda, salt and ¼ teaspoon of cinnamon to the bowl of your stand mixer. Use the paddle attachment and mix on low until combined.
Add the cubed butter to the dry ingredients and mix on low for about 3 minutes until the mixture is crumbly like oatmeal.
In a separate bowl, mix the milk, vanilla and honey until combined.
Pour into the dry ingredients and mix on low for about 1 -2 minutes until the dough forms. Be aware that the dough is a soft, sticky dough.
Divide the dough and shape into two discs and wrap in plastic wrap.
Refrigerate for about 2 hours or until firm.
As this is a very soft, sticky dough, I find that it's easiest to roll this out on a floured silpat (or parchment) this will make moving the sticks easier when needed!
Once the dough is about ⅛" inch thick, I use a pastry wheel to cut the dough into strips about ¾" wide by 2½" long. You can also use a pizza wheel or knife.
Use a wooden skewer to poke holes down the length of each graham stick.
Mix the remaining cinnamon with the sugar and sprinkle over the cut dough (reserve half of the mixture for the other dough ball.)
Place the entire silpat of cut dough (or parchment) on a cookie sheet and refrigerate for 30 - 45 minutes until the dough is firm.
Preheat the oven to 350º F.
Now it will be easier to remove the sticks without warping or tearing them. Gently peel each graham stick from the silpat and place on a parchment lined pan, spacing at least ½ inch apart.
Bake in a 350º oven for 10 - 15 minutes or until golden brown.
Allow to cool and serve with your favorite dip!
Repeat with the second ball of dough.
Recipe by
I Heart Kitchen
at https://www.iheartkitchen.com/homemade-honey-graham-sticks/