Easy Roasted Eggplant Parmesan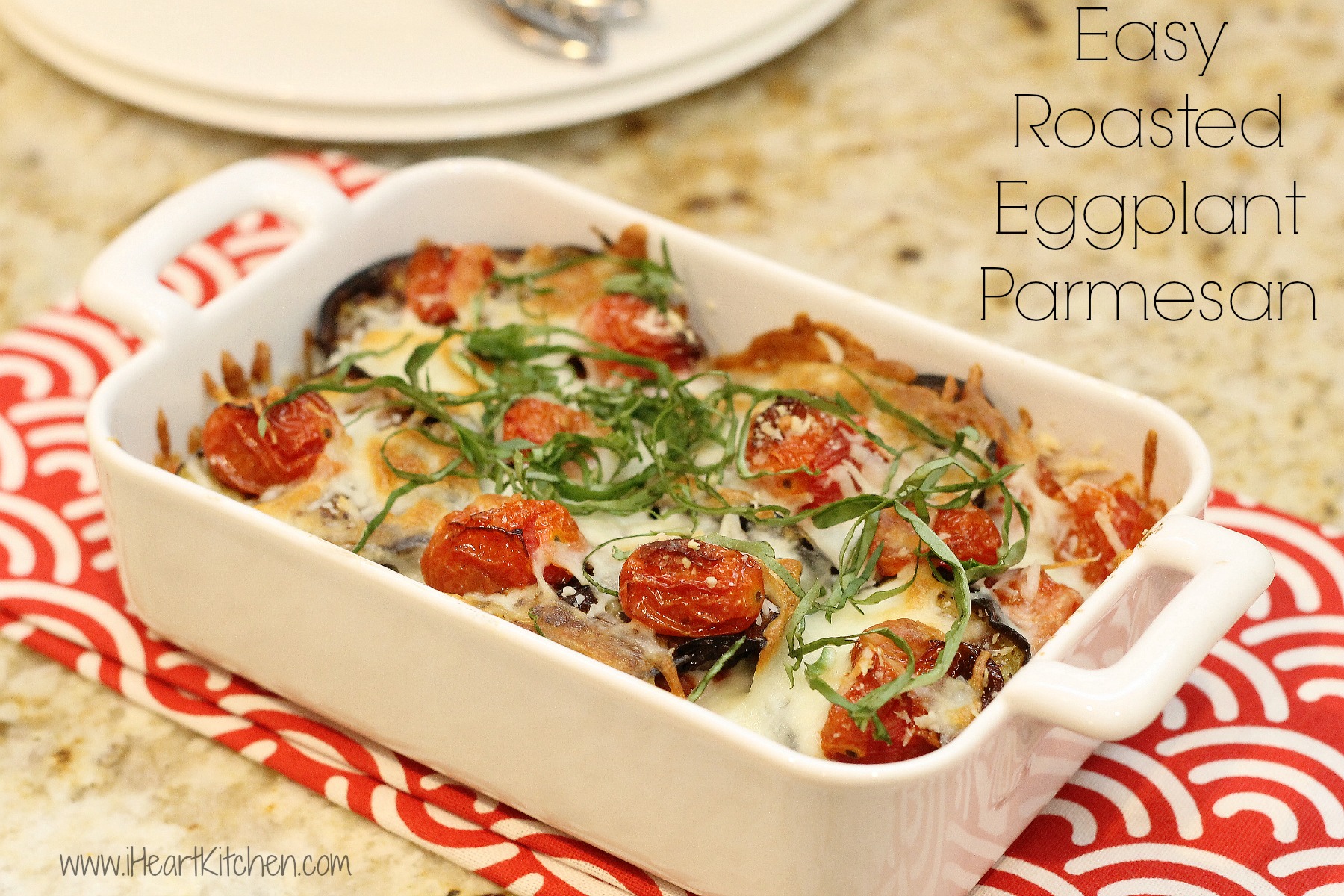 1 large eggplant, cut into ½" slices
1 pint grape tomatoes
olive oil for roasting the veggies
½ cup mozzarella cheese, shredded
½ cup parmesan cheese, shredded
Kosher salt
Ground black pepper
Fresh basil, chiffonade
Preheat oven to 375º F.
Brush both sides of the eggplant with olive oil and place on a baking sheet.
Sprinkle with salt and pepper.
Place the grape tomatoes on a separate baking sheet and drizzle with about a tablespoon of olive oil and rub to coat the tomatoes.
Sprinkle with salt and pepper.
Place both baking sheets in the preheated oven and roast for about 20 minutes.
After 20 minutes flip the eggplant and shake the tomatoes and place back in the oven and roast an additional 15 minutes.
The eggplant should be roasted to a golden brown and the tomatoes will shrivel and soften.
Remove the veggies from the oven and increase the oven temperature to 400º F.
Lightly oil a small casserole dish and place a layer of the roasted eggplant in the bottom of the dish.
Add a layer of roasted grape tomatoes on top of the eggplant.
Sprinkle with a third of the parmesan and a third of the mozzarella.
Repeat the layers twice.
Bake at 400º F for 20 minutes or until the cheese is golden and bubbly.
Remove from oven and cool for 8 - 10 minutes.
Sprinkle the basil chiffonade over the the dish before serving.
This was the perfect amount for two adults and two children. You can easily increase the ingredients as needed.
Recipe by
I Heart Kitchen
at https://www.iheartkitchen.com/easy-roasted-eggplant-parmesan/