Slow Cooker Chicken & Dressing With Gravy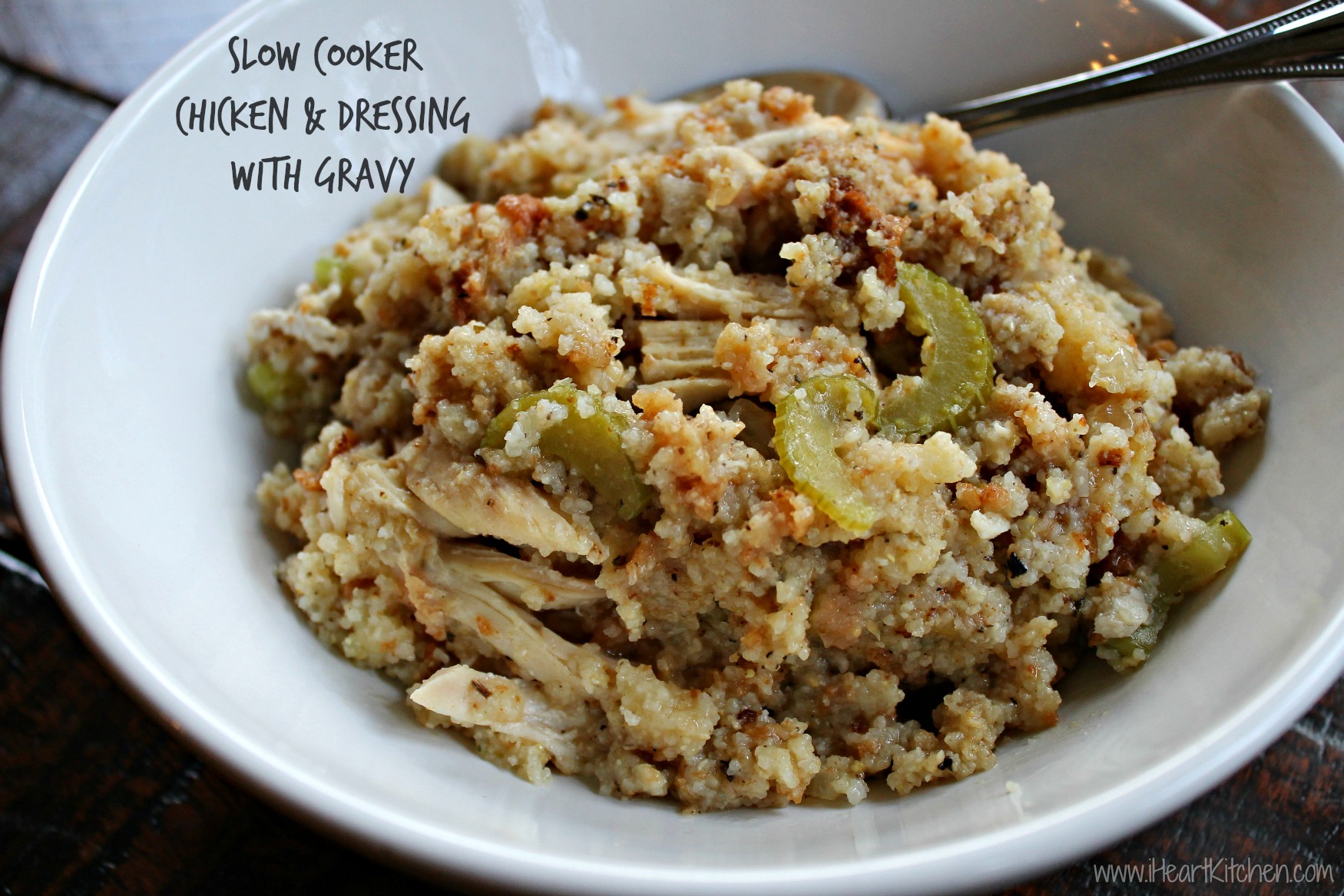 10" skillet of cornbread (recipe follows), crumbled
4 slices stale bread (can toast if needed), crumbled
½ cup celery, sliced
½ cup onion, chopped
2 cups chicken broth
5 tablespoons butter, melted
1½ tablespoons rubbed sage
1 tablespoon poultry seasoning
1 teaspoon salt
½ teaspoon pepper
1 12 oz jar chicken gravy
3 cups chicken, shredded
Mix up the dressing in a large bowl by combining the crumbled cornbread, crumbled bread, onion, celery, butter, chicken broth, sage, poultry seasoning, salt & pepper.
Pour ¼ of the gravy in the bottom of the crockpot.
Add ⅓ of the dressing followed by half of the shredded chicken and another ¼ of the gravy.
Top with another ⅓ of dressing, the remaining chicken and ¼ of the gravy.
Finish with the rest of the dressing and finally the remainder of the gravy.
Bake on low for 4 - 6 hours.
Simple cornbread recipe. Preheat oven to 450º F. Place 2 tablespoons vegetable oil in a cast iron skillet place in oven while you mix the batter. In a large bowl mix 2 cups cornmeal, 1 egg, 1⅓ cup milk, ¼ cup vegetable oil until combined. Remove the pan from the oven, swirl the oil around the pan and pour in the batter. Bake for 20 - 25 minutes until browned.
Recipe by
I Heart Kitchen
at https://www.iheartkitchen.com/slow-cooker-chicken-dressing-gravy/