Bacon, Spinach & Mushroom Quiche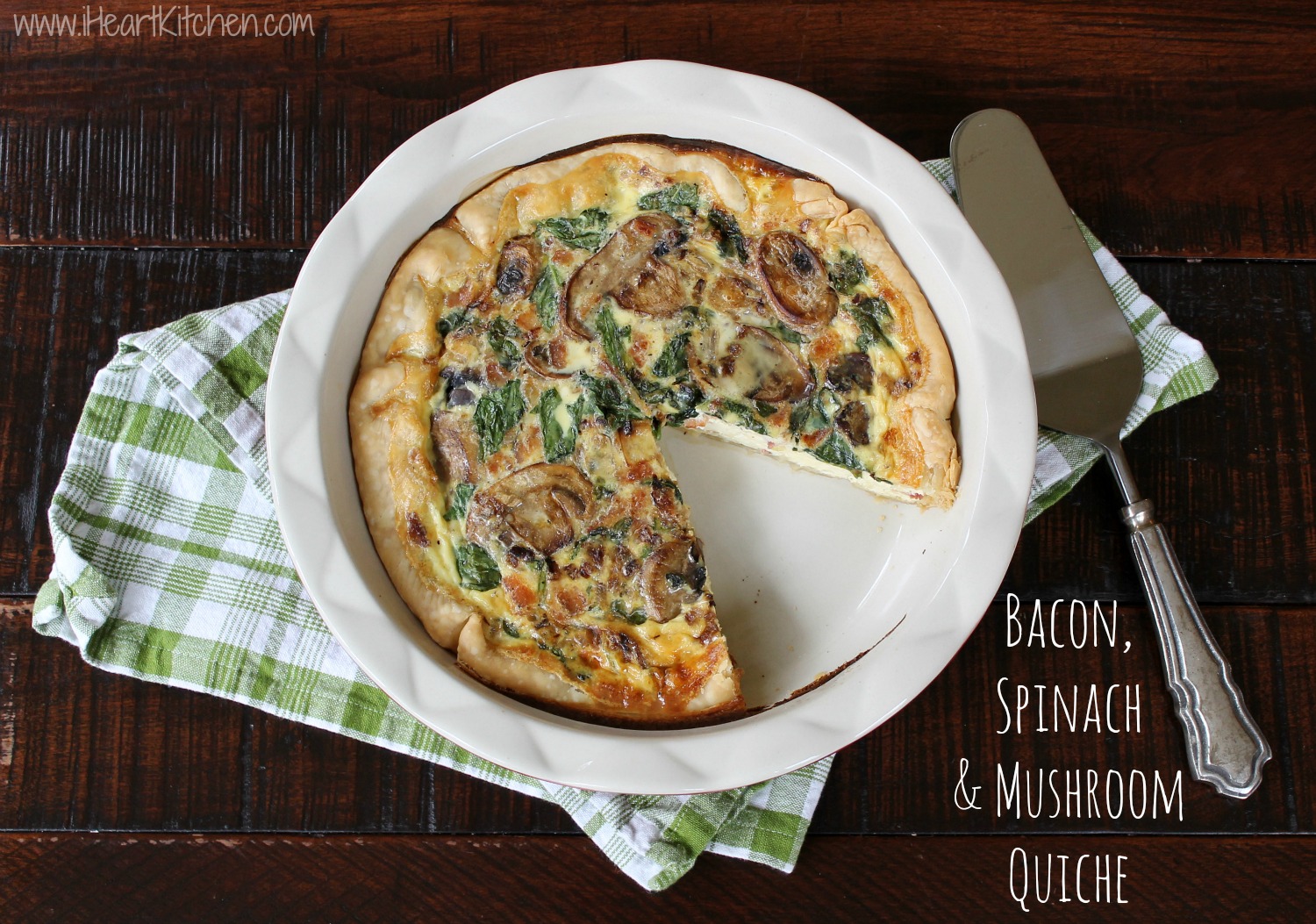 pie crust (pre-made or homemade)
4 eggs
2 cups whole milk
1 tablespoon honey dijon mustard
6 oz bacon (about 6 slices)
1 medium onion, choppped
8 oz mushrooms, sliced
8 oz spinach
1 cup shredded cheese (swiss, gouda, muenster, etc)
½ teaspoon salt
½ teaspoon pepper
pinch of nutmeg
Preheat oven to 375º F
Press the crust into a deep dish pie plate, pressing it down and up the sides of the pie dish. Cut any excess edge and flute the edges (if desired)
Line the crust with parchment paper and weight with pastry weights or dried beans.
Bake the crust in a 375º oven for about 15 minutes until lightly browned.
Remove the paper and weights then set aside to cool.
Cook the bacon in a pan until brown and crispy.
Remove to a paper lined plate to drain, crumble when cool.
Pour off all but a teaspoon of the bacon fat.
Cook the chopped onion and mushrooms in the bacon fat for about 5 minutes until golden.
Add the spinach and stir until wilted (about 1 - 2 minutes)
Sprinkle half the cheese onto the pre-baked pie crust and top with the crumbled bacon and cooked vegetables.
Top with the remaining cheese.
Whisk together the milk, salt, pepper, nutmeg and mustard until combined.
Whisk the eggs into the milk mixture.
Pour the mixture over the cheese and veggies.
Bake in a 375º F oven for 40 - 45 minutes until center is just set.
Remove from oven and allow to cool for about 10.
Recipe by
I Heart Kitchen
at https://www.iheartkitchen.com/bacon-spinach-mushroom-quiche/