No-Bake Banana Pudding Pound Cake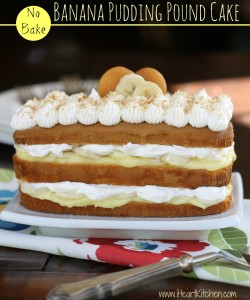 Sara Lee Pound Cake, defrosted
1 box banana cream instant pudding
2 cups milk, chilled
2- 3 bananas, sliced
½ tub whipped topping
vanilla wafers for garnish
Prepare the instant pudding by whisking the pudding with 2 cups of cold milk.
Refrigerate for 5 minutes to set.
Cut the Sara Lee pound cake lengthwise twice to create three layers.
Begin assembling the cake by spreading about ½ - ¾ cup of prepared pudding on the bottom layer.
Top with the sliced bananas then spread with whipped topping.
Repeat once.
Place the top layer of pound cake on top and pipe on whipped topping.
Garnish with crushed vanilla wafers.
Refrigerate until ready to serve.
Recipe by
I Heart Kitchen
at https://www.iheartkitchen.com/bake-banana-pudding-pound-cake/