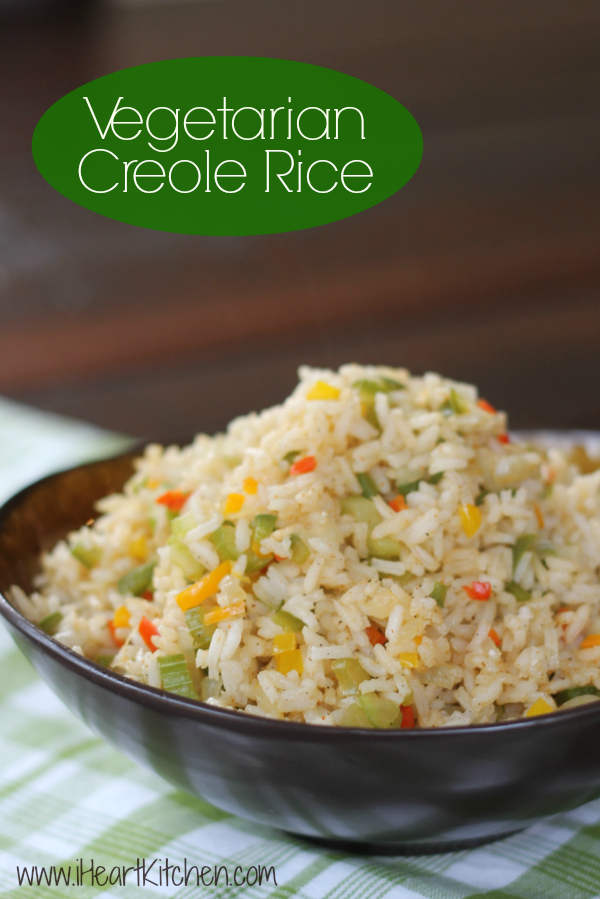 I make a rice dish at least once or twice a week. All of my guys love rice and let's face it…it's so simple to prepare. You can really do so much with that simple little grain. The other day I was making a Cajun Pork Tenderloin and knew exactly what I would serve with it – my Vegetarian Creole Rice.
This rice is wonderful as you can add as much heat as you like. Use multiple colors of peppers and you will have a delicious dish that is also quite beautiful.
So many folks overcook their rice and it turns out sticky and mushy. The trick to making great rice is by cooking it like you would pasta. You want to get it to the point that it is al dente. Now that doesn't mean hard and crunchy. You want it just with a little bite. Then a quick finish in the oven to dry out the excess water and you end up with fluffy delicious rice with amazing flavor.
While this is a vegetarian version of creole rice, you can add in a bit of cooked sausage, pork or ground beef to make this a main dish. No matter how you serve it, the bowl is sure to come back empty!
Vegetarian Creole Rice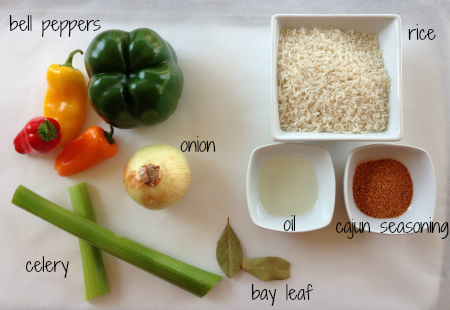 Ingredients
1½ cups water
1 cup rice
2 bay leaves
1 cup bell pepper, chopped - use multiple colors for great taste and visual appeal
1 medium onion, chopped
2 celery sticks, chopped
1 teaspoon oil
1 -2 tablespoons cajun seasoning - I like Tony Chachere's
Instructions
Preheat oven to 375ºF.
Rinse the rice in a fine mesh sieve until the water run clear.
Place 1½ cups of water and bay leaves in a saucepan.
Bring the water to a boil and then add the rinsed rice and cajun seasoning and stir once - then don't stir any more!
Once the water comes back to a boil, reduce the heat slightly and place the lid on the pan slightly ajar.
Gently boil the rice for 12 minutes or until just al dente. Be sure and watch the rice to ensure that you don't boil out all of your water and burn your rice. A little extra water in the pan is just fine!
If your pan is oven safe, place it in the 375ºF oven for 10 - 15 minutes to "dry" out the rice. If your pan is not oven safe pour the rice into a casserole dish before placing in oven.
While your rice is in the oven, heat 1 teaspoon of oil and sauté the peppers, celery and onion until tender.
Remove the rice from oven and add the sautéed vegetables.
Add additional cajun seasoning if desired.
Serve warm