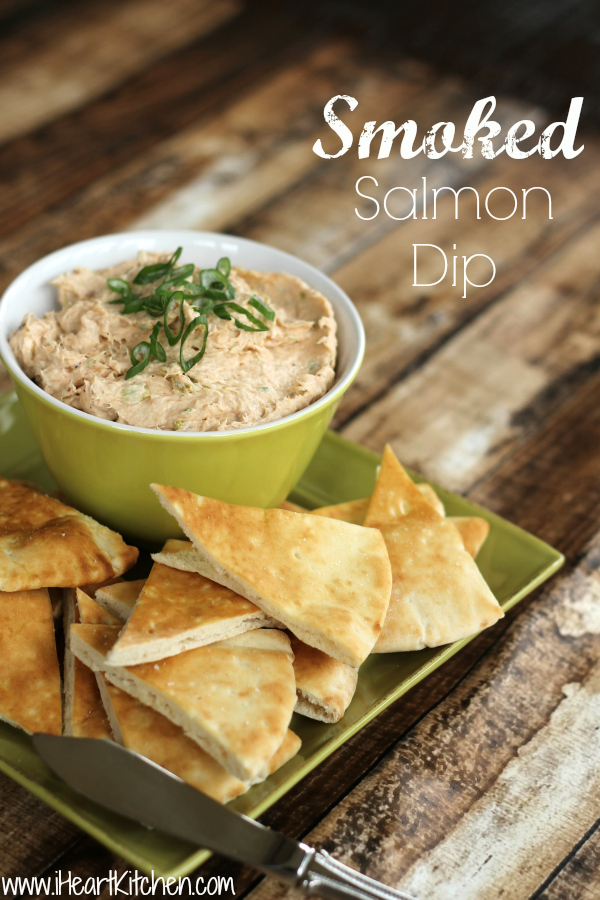 With all the guests and get togethers that happen during the holidays, most of us end up spending a ton of time in the kitchen cooking and prepping meals. I try to do recipes that are delicious yet simple to prepare. I even look for options where I can get my husband in on the prep. He's not a pro in the kitchen but he is a master on the grill and the Big Green Egg.
He usually fries us a turkey and a few days before guest arrive I have him smoke a big batch of salmon so I can whip up some Smoked Salmon Dip.
I have him do a bunch and then flake the fish and freeze it. I can then use it a little at a time. So far I have made three batches of dip this year. I put it out for guests and it's usually the first appetizer gone. I think next year I might have to double my recipe…it's that popular!
While the smoked salmon does add a fabulous flavor, you can use canned salmon in a pinch. I brine my salmon in salt before it goes on the smoker, so there's no need to add additional salt in the dip. You will need to taste and adjust your recipe if using canned salmon.
Smoked Salmon Dip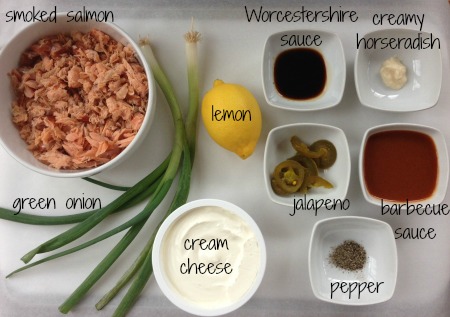 Ingredients
2 cups smoked salmon, flaked
8 oz cream cheese, softened
3 teaspoons lemon juice
3 tablespoons barbecue sauce (vinegar based is best)
1 teaspoon Worcestershire sauce
½ teaspoon creamy horseradish
½ teaspoon black pepper
2 tablespoons green onion + additional for garnish
1 tablespoon jalapeño (fresh or pickled)
Instructions
Place all ingredients in the food processor and pulse until combined.
Garnish with green onion
Serve with pita, crackers or toasted baguette slices.
Notes
If needed, you can substitute canned salmon for smoked salmon. Salt may be needed if canned is used.
If you've never attempted Smoked Salmon it's really simple. You'll need to plan ahead but those few minutes of effort will yield you plenty of salmon to use as you need it.
I use a dry cure on my salmon before my husband puts it on the Big Green Egg. Just mix 1/2 cup of Kosher Salt with 1 cup of brown sugar, 2 cloves of minced garlic, 1 tablespoon minced ginger, 1/2 teaspoon black pepper and a couple of crushed bay leaves. Rub the mixture over the salmon and refrigerate overnight. Rinse the brine off the fish and then return to the refrigerator for 2 hours to dry out. The fish is now ready for the smoker. My husband smokes our fish at 180 degrees until the internal temp is about 160 degrees (approximately 5 hours).