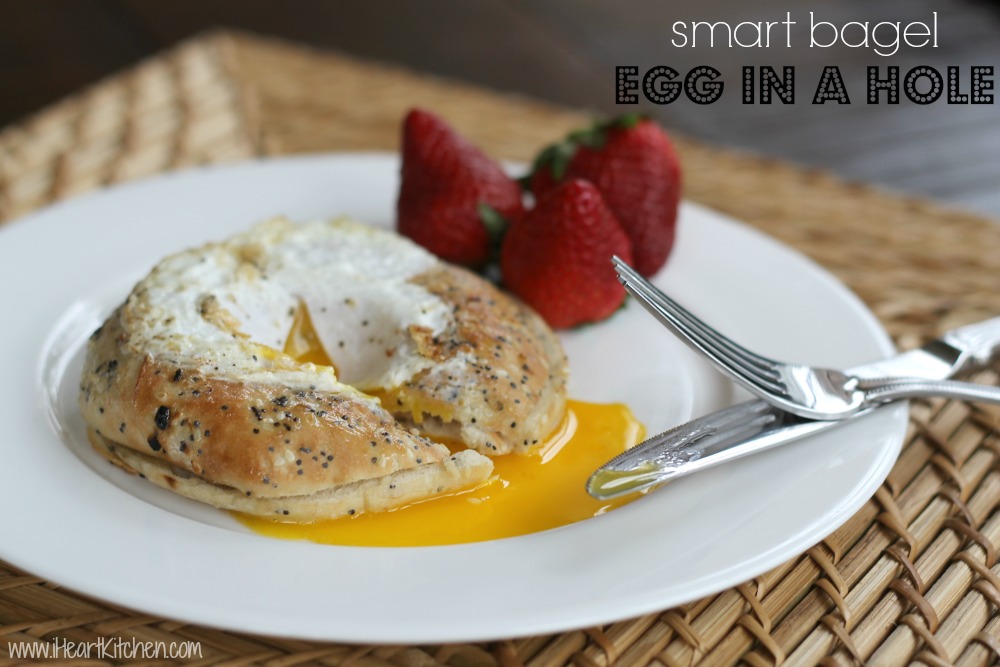 I don't share too many breakfast recipes with you guys. Mainly it's because most of the time I do a piece of toast, a simple bagel  or maybe a packet of grits or oatmeal in the morning. I cook dinner almost every night so I don't spend a ton of time in the kitchen in the morning. The other day I was craving an egg in a hole and thought…why don't I do this more often?
I happened to be on the phone with a buddy as I was preparing breakfast and she had never heard of egg in a hole. I almost dropped the phone. How has she never had an egg in a hole? I started going over all the various names this dish goes by…egg in a basket, toad in the hole. Nope–she had no clue.
I decided then and there that I was going to snap a photo of my breakfast and share it so she could see what she was missing. Many times you will see folks doing an Egg in a Hole by cutting the hole in a piece of bread. I prefer a Toufayan Smart Bagel…in particular an Everything Smart Bagel. You get a buttery, toasted bagel with a perfectly cooked egg that is oh so good. Now, this one requires you use your fork but it's a hot, protein packed breakfast that will get you going in the morning.
So put up those cereal boxes and oatmeal packets and whip up a Smart Bagel Egg In A Hole. I think you will love it!
Smart Bagel Egg In A Hole
Ingredients
Toufayan Smart Bagel
egg
1 teaspoon butter
salt & pepper to taste
Instructions
Heat and melt the butter in a small skillet.
Place the Smart Bagel in the skillet and carefully crack an egg into the bagel hole.
Sprinkle the egg with salt and pepper to taste.
Allow to cook for 2 - 3 minutes until the egg has set.
Carefully flip the bagel and allow to cook for 1 - 2 minutes for a sunny side up egg.
Remove to plate.