Products for this recipe sponsored by Good Cook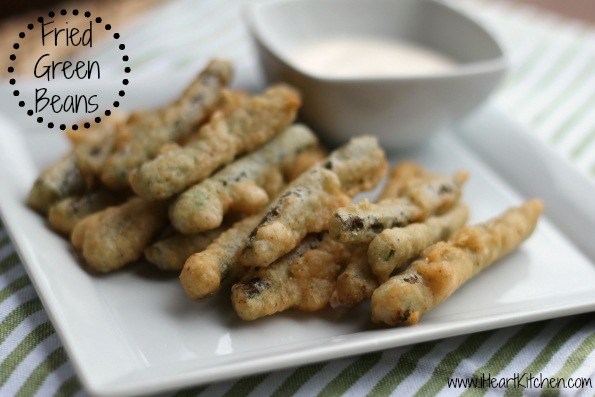 In order to celebrate Thanksgiving with both sides of the family, we end up having to do two dinners. We celebrate with my family the weekend before Thanksgiving and then head to South Alabama to do Thanksgiving Day dinner with my husband's family. There are only a few days between meals so I have to get creative with the leftovers.
You know when you cook for a group, it never fails that you either have way too much or not enough of a dish. This year I was swimming in leftover green beans. I like the simplicity of steamed green beans tossed with a little butter and toasted almonds with the other heavy Thanksgiving dishes. I guess my crew wasn't overly excited by my simple green beans.
I had considered tossing them in a casserole but decided to treat my guys to a great little snack – Fried Green Beans.
This recipe is a perfect way to use up those leftover green beans. Heck, leftovers or not the recipe is super simple and makes for a quick and easy appetizer or snack. The recipe is best using fresh green beans that have been steamed but are still crisp. So if you served soft green beans at Thanksgiving – you might want to throw those leftovers in your Turkey Pot Pie and save this recipe for a fresh batch of beans.

Fried Green Beans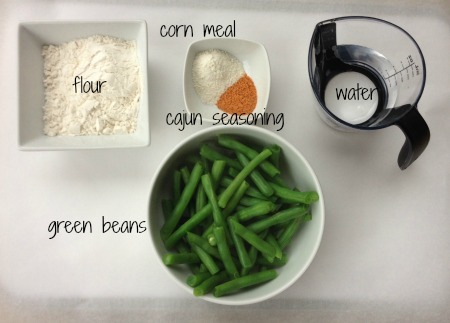 Ingredients
2 cups fresh green beans
½ cup flour
½ cup water
1 teaspoon cajun seasoning
2 teaspoons corn meal
oil (for frying)
salt
Instructions
Steam the green beans for 5 minutes then remove to an ice water bath.
Heat oil to 350 degrees. You will only need about 1 - 1½ inches of oil.
Whisk flour, water, cajun seasoning and corn meal in a medium bowl until combined.
Dry the green beans and then dip in the batter.
Shake off any excess batter and drop in the hot oil.
Fry the beans for about 5 minutes until golden brown.
Remove to paper lined plate to drain and season with salt to taste.
Serve immediately.
Good Cook Tools used in this recipe: