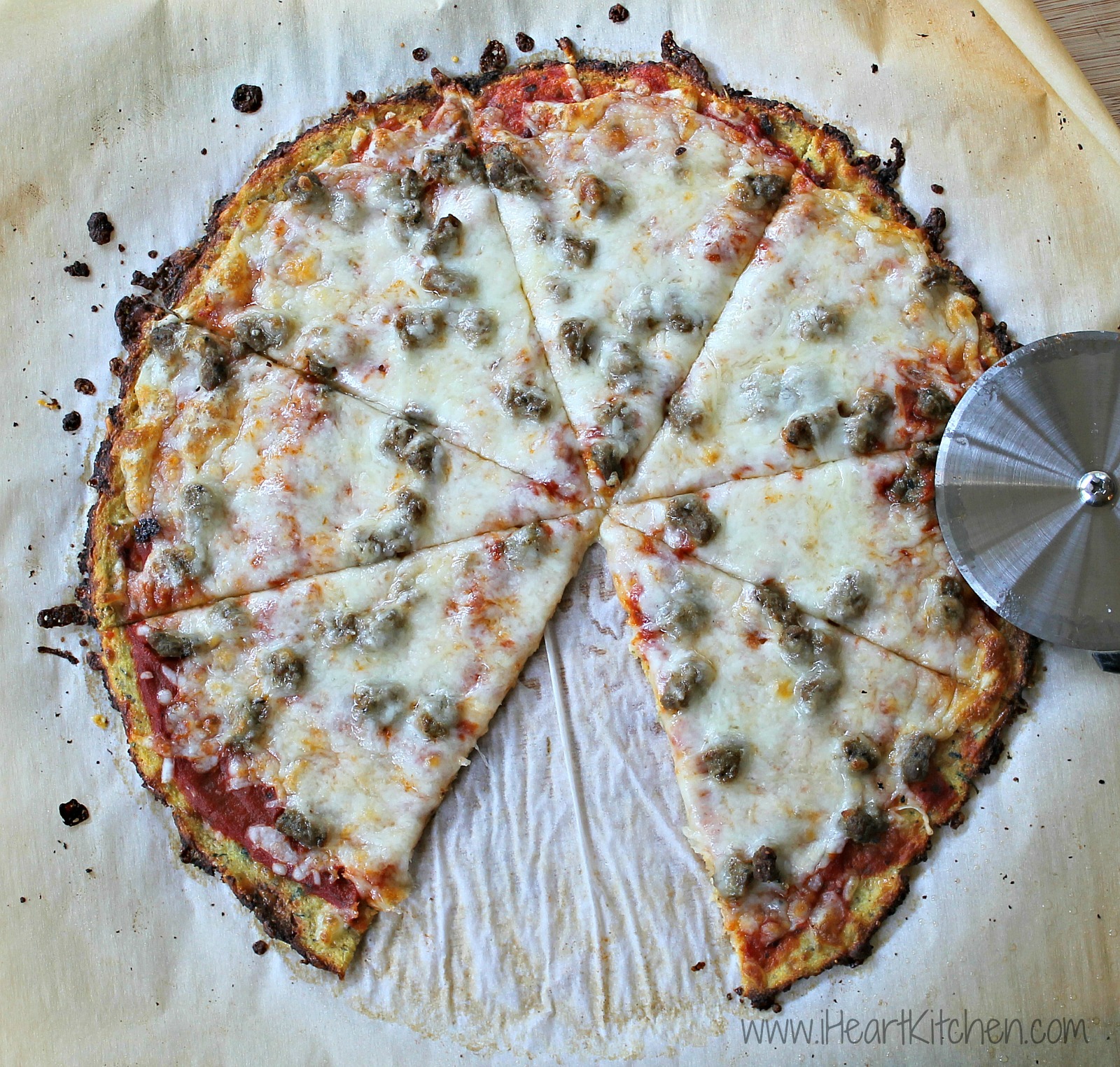 Ok…so my husband said that while this really shouldn't be called pizza, when you are trying to keep the carbs to a minimum this recipe will have you doing a little jig!
I am not going to pretend that the cauliflower crust tastes like regular pizza dough but it's delicious in a totally different way. Plus like any pizza, it's open to customization. You can opt for a cheese pizza or go crazy and add as many toppings as you'd like.
Now, I have tried no less than 6 different veggie crust pizzas over the past couple of years. I have even tried my hand at a couple of cauliflower crust recipes. None of them were half as good as this recipe. It seems the trick to a really good cauliflower crust is removing as much water from the cooked cauliflower as possible before you bake it!
One of my buddies is a fitness guru…she's a cool kid who works out all the time and even has a personal trainer. Her personal trainer is the one who gets all the credit for this recipe. His tip – use a tea towel to squeeze as much water as possible from the pre-cooked cauliflower! He says you can do the same with uncooked zucchini and you get fabulous results as well. You know I'll be making that soon too. Of course I'll keep you updated and let you guys know how it turns out!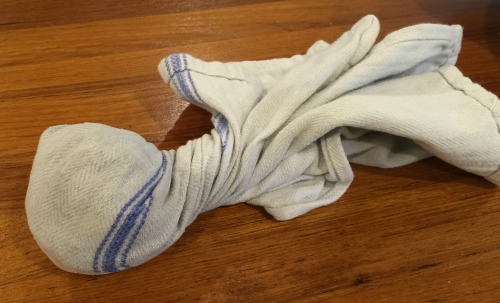 I was so tickled at how my pizza turned out. This was the first veggie crust pizza that I could actually cut and pick up like a regular pizza. Even my husband was pleasantly surprised at how great it turned out. After all my failed attempts over the years, this one was a huge success and he happily agreed that  this recipe was a keeper!
I've already made a second pizza and tweaked the recipe slightly. So the next time you are hankering for a pizza but want something that's not loaded with carbs, try this recipe. I think you will be very pleased with the outcome. You get a delicious veggie pizza that's better for you yet still super tasty!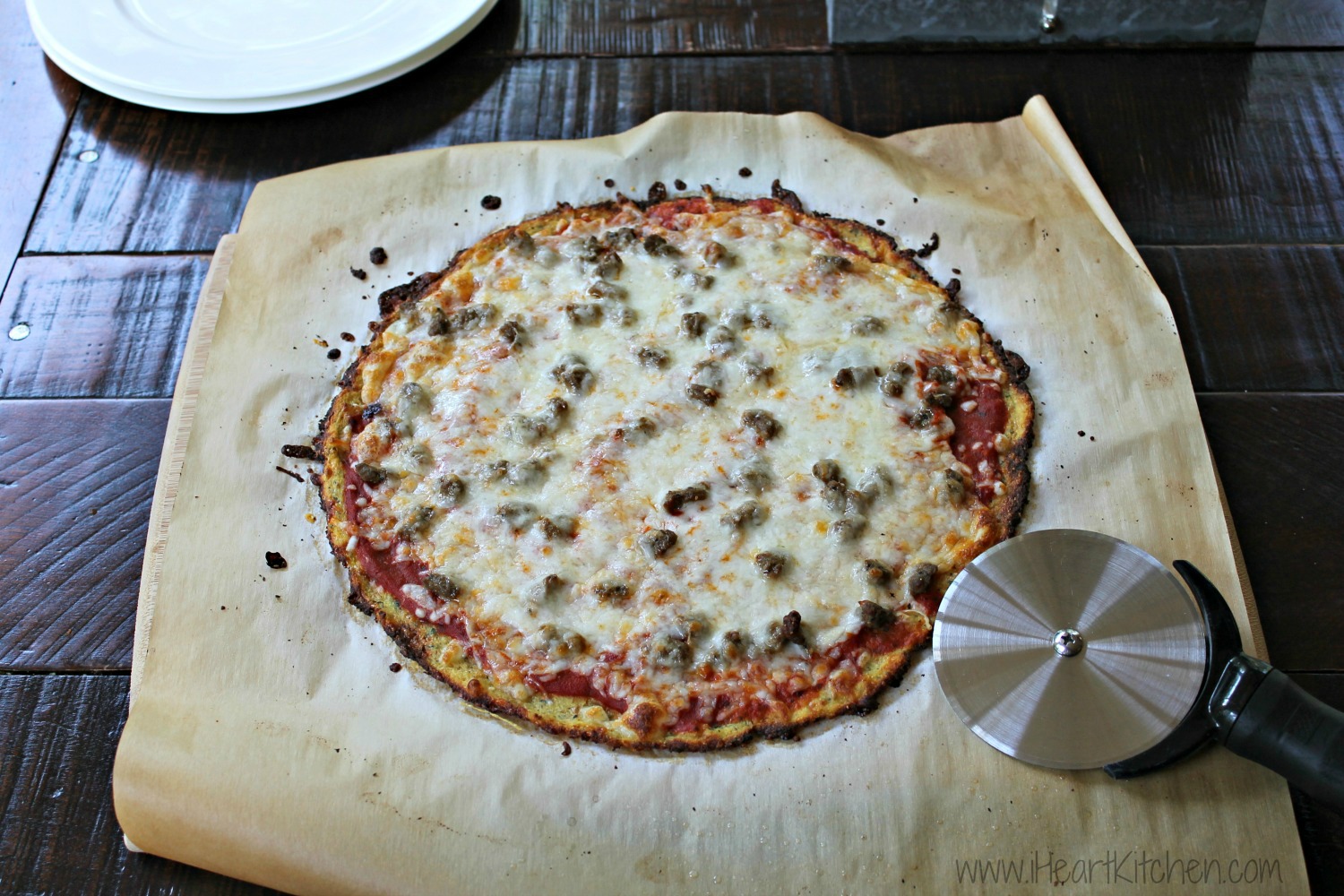 Cauliflower Crust Pizza - Easy & Delicious!
Ingredients
1 medium head of cauliflower - (4 cups of cauliflower crumbles)
1 egg
2 tablespoons grated parmesan cheese
2 tablespoons shredded parmesan cheese
2 tablespoons mozzarella cheese
½ teaspoon Kosher salt
½ teaspoon onion powder
½ teaspoon garlic powder
½ teaspoon dried parsley
½ teaspoon dried oregano
½ teaspoon dried basil
olive oil
pizza sauce
mozzarella cheese for topping pizza
additional pizza toppings if desired
Instructions
Preheat oven to 450º F and place your pizza stone into the oven to pre-heat (use a pizza pan if you don't have a pizza stone)
Cut the cauliflower florets from the head and add to a food processor and pulse until you get small crumbles. (The crumble will look like small grains.) Do this in batches until you get about 4 cups of cauliflower crumble.
Place the cauliflower crumble into a microwavable-safe bowl. Cover and cook on high for 5 minutes.
Allow to cool and then dump the cauliflower crumble into a clean tea towel.
Gather into a ball and squeeze out all excess water. Repeat until no water runs from the towel.
Place the cooked and drained cauliflower into a medium bowl.
Add the egg, grated parmesan, shredded parmesan, mozzarella, garlic powder, onion powder, salt, parsley, oregano, and basil then mix until combined.
Place a sheet of parchment paper on a pizza peel (or similar item that will allow you to move the parchment to the pizza stone/pan in the oven)
Lightly oil the parchment paper with olive oil.
Dump your cauliflower pizza dough onto the oiled parchment and begin to push down and out to form your pizza crust. Be sure to round your edges as you go.
Your crust will be about ⅛th inch thick and the size of a 10 - 12" pizza.
Use the peel to transfer your parchment & pizza to the 450º preheated oven and place on the pizza stone.
Bake for 18 - 20 minutes or until the crust begins to brown.
Remove from oven (parchment and all) and top the pizza with the pizza sauce, cheese and any desired toppings.
Place the pizza back in the oven for an additional 8 - 10 minutes or until cheese is bubbly.
Allow to cool for about 3 - 5 minutes.
Cut & serve!